So we had Motorhead drummer Mikkey Dee sit in with ETB last night at friends. That was awesome!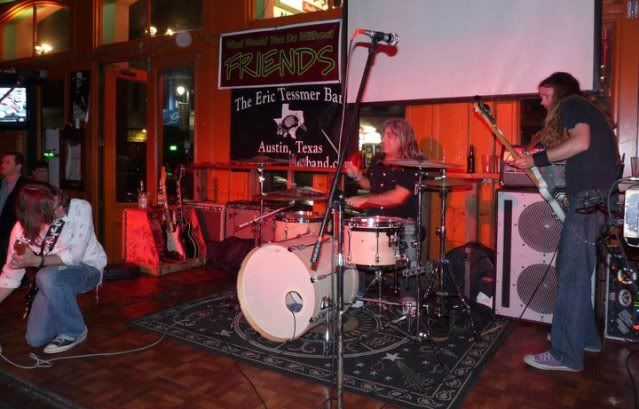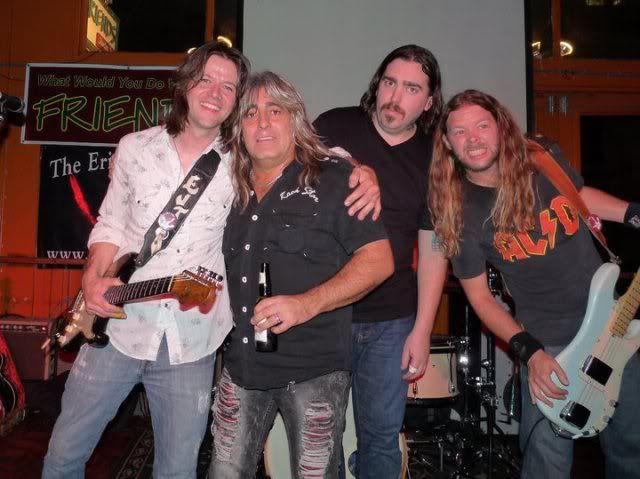 Our publicist Suzanne Penley also does publicity for Motorhead so her and her husband John brought Mikkey by. He was awesome. And what a great monday night. We've been having Rob Williamson (ex-New Disaster, Hyde Park Showdown) sit-in on drums and he's doing great! Good times and a great crowd which I felt like we destroyed.
ETB also played Saturday at the Texas Independence Fest in Maxwell TX. That was a blast as well! We headlined last year, and evidently they've expanded since then, as it is now a 2-day event with David Allan Coe headlining Friday night and Down headlining Saturday. We played at 3pm, which wasn't too bad. Crowd starting to gather by then, and we could hit it and quit it then hang out the rest of the night. Which we did. Great, short fun set. Nevermind my wireless decided to finally crap out beginning of the first song... I had replaced the input jack and it finally failed after being problematic for last few gigs. So much for my repair theory of "if tape doesn't work, try more tape." Ah well.
Was cool that Pepper Keenan from Down/COC was checking our set out with their techs Bobby Rock (guitar for Honky) and Carter (saviour of my stricken Les Paul Studio). Then Pepper came and watched from side stage behind the PA speakers. Awesome. We played for 40 minutes, ripped our strings off and got the fuck off stage. Pepper came and shot the shit with us afterwards, that was cool. Gave us a huge complement: "You guys got me off the bus!" Nice! Took pics with him which I will post soon.
Hung out rest of the night drinking $4 beers and having a blast. The venue (The Cotton Gin) is in the middle of nowhere on a farm with pens conatining cows, bulls, and some kind of zebra/donkey hybrid. Awesome. Great sets by Honky, Dixie Witch and of course Down. Good times tho it got real cold real fast after the sun went down.
So much I want to talk about but can't. Either for professional reasons (band business) or personal reasons (my mom reads this blog). I try to be as open, honest and unmerciful, but at the same time their are things which I simply cannot talk about here. Too public. So I am trying to keep this a blow-by-blow account of the day-to-day activities of a working musician, but the filter is set to "HIGH." So fuck it, I will talk about what I want to talk about (within reason, heh).
In general life is good. Admitted defeat for the RPM challenge this year, got sick last few days and was too damn tired/had life shit to deal with to complete it. But who cares, came up with a bunch of good shit I will finish right in my own time.
In the meantime will be talking to a small label interested in my solo stuff, so that's fucking killer. ETB has a busy year which I am now very optimistic about for reasons I will reveal when the time is right. I am finally happy with my bass rig and tone for the first time in a long time, thank you John Mergilli. That helps as well. Am talking another session with Tim Abbott from The Figurados. More music, more opportunites, and a little more coin in my coffer. Win/win/win.
Will be pulling some strings to get into the Motorhead show tonight, wish me luck!