Another apology to my 5 humble readers. Life's been a little crazy lately.
I will say that The Mother Truckers happy hour last Thurs (10-15) was fucking AWESOME. Another sold out, capacity crowd! I had to take it easy as though my back was feeling better, I sure as fuck didn't want to make it worse. Told Josh as much onstage, he replied "I can't tell, doesn't seem like anyone else notices either!" Awesome. But trust me, I was taking it EASY. Although, I did still jump offstage for my bass solo... can't stop the ROCK!!! Great crowd, a lot of new faces as well as the usual suspects.
Clara the bartender Go-Go dancing during "Save My Soul"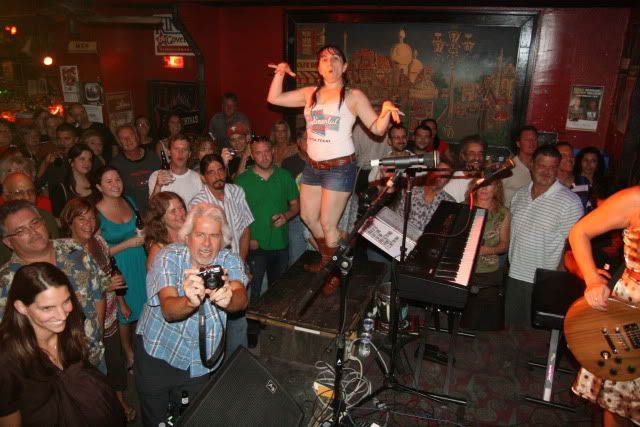 Josh holds a shot glass for Pete the Beat to incorporate into his drum solo: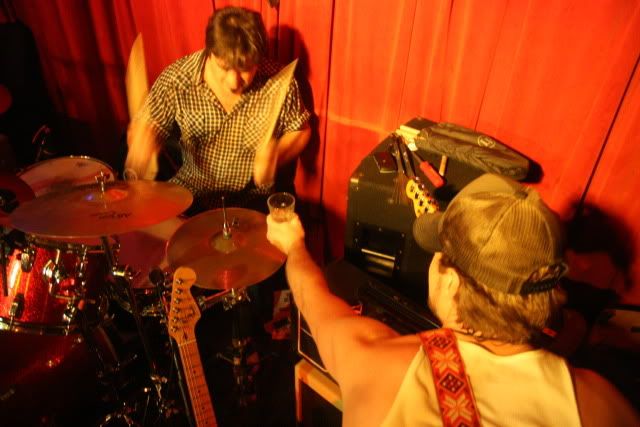 Second set we brought up the legendary Earl Poole Ball (Google him, seriously!) to tickle the ivories for most of the tunes. Always awesome to share the stage with a living legend! Nice guy and such a pro. Tell him the key, count him in, point to him to take a solo, and it's like we've been practicing with him for weeks! For the big finale of "Love Me Like A Man" Josh and I did the switcheroo and I took a long guitar solo and finished the song out. Good times! But oh shit, out of time. Thank you, good night!
The incomparable JB (silver-haired gentleman/Mother Truckers super fan) leads a post-show toast! This was his 98th Mother Truckers show!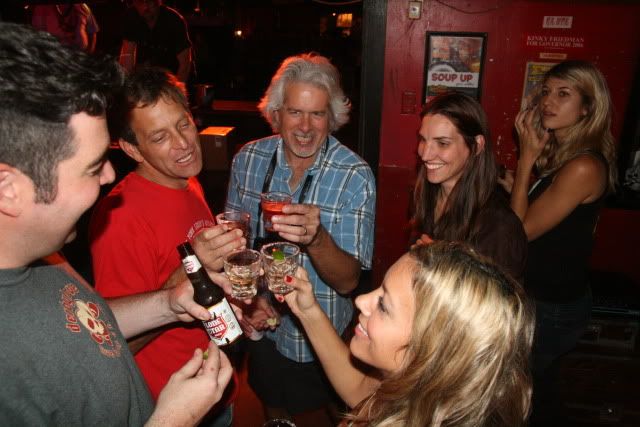 Afterwards went to the Scoot Inn with Josh, Teal and some of the Truckers gang for drinks and stupidity. My friend Amber came out as well, gave me the latest version of the new Amber Lucille album with a pedal steel player that just tracked that day or the day before. I gotta say, this is some of the best stuff (musically and production-wise) that her and Trent have ever done. And they've done a lot of different shit in the past few years, as I have done as well. Awesome that the breakup of Southern Gun Culture in 2004 allowed us all to branch off into so many other directions musically.
Next night (Friday 10-16) was Eric Tessmer at Maggie Mae's upstairs. The weather had turned cool so it was a great night to play outside. When we finally GOT to play. I swear to Crom it took that soundguy an hour and a half to set up the damn PA. And to think I hauled ass to go park and grab a slice of pizza (dinner) on the way back to get set up at 7:30 for an 8pm set time, and not fucking start until almost 9:30?!? Well shit, I should have grabbed a table somewhere and gotten a proper fucking meal. My friends Triniti Young and Chris (Splithoof) were there with some friends. All we could do was drink our beers, check our watches and wait... Yeesh.
Low key gig, crowd OK. The little thing of lights behind Richard's kit didn't work. I know, I tried to plug them in after 40 minutes into the set to get some light but we had enough from the goddam movie screen showing the fucking game. Nice. But we just played and had fun despite getting started so late. Tessmer yelled in my ear between songs "We have to be offstage for the DJ by 11pm, and we're getting our full guarantee anyway..." Cool. And sure enough, we stop at 11pm and the DJ was already setting up playing a bunch of good old-school hip hop. I dug his musical selection, but the crowd it attracted left a lot to be desired... But whatever.
"Impromptu party" called at Chris and Triniti's place, so Richard and I headed there for late night drinks and music. Nice little gathering, met their new kitty cat Durga, "The Goddess of Boundaries, for she knows none!" explained Triniti. Nice! Fun little get together, got schooled by Chris on a lot of early 70's rock which I now can't recall, go figure. But yeah, it all cemented my conviction that the early 70's is my favorite era of music. Now if I can just remember what he played.
But anyway, gear: I did one final trussrod adjustment to the neck of my bass for those lighter strings and it seemed to do the trick. They didn't feel weird at all in standard E tuning for the Truckers, nor did they feel weird in Eb for Tessmer's stuff. Did buzz a little on the frets but no big deal.
Another longish weeked of gigs: Truckers happy hour tomorrow night @ Continental, gig with Tessmer at Club One-2-One downtown Friday, then Tessmer @ BD Riley's on 6th Street Saturday night. We'll see about One-2-One. Not that great a place, but last time we had a blast. Got drunk and were jumping out the windows (ground level) and walking around the sidewalk playing. Good times!