Monday September 28, 2009
Woke up and the bus was in Vermont somewhere. Thought we'd have the day off in Boston instead. Ah well. Had to text my Boston friend John (SR.com moderator) that plans had evidently changed and we would NOT be having some beers together. Saw him last year when The Mother Truckers played Boston. At this weird hotel (Anchorage something), first floor haflway in the ground, second floor waist level, and these half-staircases like an MC Escher painting. Cleaned up and showered in the crew room, my first since messing up my hand. Shampooing my hair hurt like hell, that's for sure. Scrapes on fingers starting to heal, but it's the big wound on the side of my thumb that has me worried. But I still have more than a week til I need to play.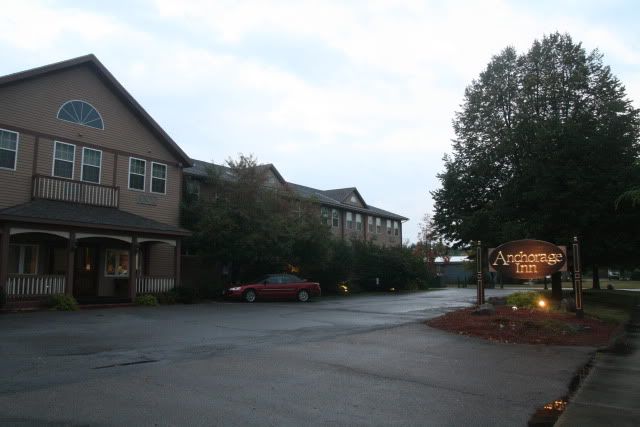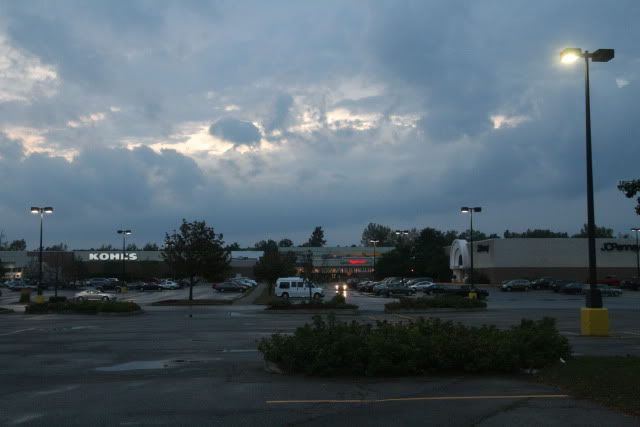 Sky still threatening rain as Ryan, Dug and I went across the street to the mall to forage. Walked into the entry of some department store and we almost froze: bright white and clean, Amy Grant playing on the PA. So NOT what we were expecting we almost left, but found the entry to the mall proper. Walking around the sides of my knees were hurting. My Army boots so worn down/rounded in the soles I could feel my legs quivering a little with each step and how it affected my euqilibirum. And maybe if I had new ones I wouldn't have slipped on that damn ramp...
Split off from Ryan and Dug to go boot shopping. Found some Doc Martens for $110, felt a little big but put the bad ass insoles from my boots into the new ones at the store and they fit great. SOLD. Ate solo at Applebee's, apple walnut chicken salad. Lotta good people watching at that mall, even spread of college girls, old folks and some seriously inbred looking motherfuckers. Then walked to a nearby grocery store for more band aids and some Neo-Sporin.
Didn't feel like doing shit the rest of the day. Could have caught up on photos and blogging, but so road-weary I just didn't care. Phone drifting in and out of analog roam, hope I didn't run up my phone bill too bad... Eric Tessmer called looking for Jason Morales' (Tia Carrera) phone number, wanted them to be on the Antone's bill for Thursday Oct 8th as Amplified Heat couldnt do it. Made several calls and finally got it from Kenny Wagner (Splithoof). Of course they couldn't either so he asked White Rhino and I asked Son Of Fire. Both said yes and both were added to the bill. Awesome! Brandon from SOF was very excited and grateful. I don't mind helping out people I like and bands I respect.
Opted to lay low most of the evening and try to sleep/rest. Mainly laid there and watched TV. Finally said hell with it and went to an Outback Steakhouse with Wilson, Ryan and Jerry. Had a greasy ass rare-in-the-middle burger cause at that point my body was craving protein. It's pretty good at telling me what it needs. Even had a sunday for desert. Hung on the bus with everyone. Bus call was 9am, and the choice between sleeping in an actual bed but having to get up stupid early or just sleeping til I woke up was an easy one.