Drive to DFW was uneventful save for the length (5+ hours). Josh had first shift, tried to remember what city had a Lightnin Hopkins statue, which would have been awesome to pull over and check out, but alas we were skunked. One thing I liked about travelling with the Truckers, they take time to do cool shit rather than just get where we're going.
No Lightnin Hopkins statue, but did drive by a huge one of Sam Houston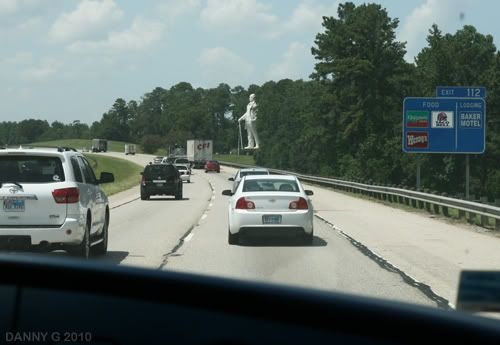 Our accommodations for the weekend were being provided by a friend of Josh and Teal's named Tony, who has a nice house in DFW with a pool, rooms/beds for everyone, and a jam room. Sweet! It is the kindness and hospitality of people like him that make it possible to do this for a living, that someone we barely know believes in what we do enough to open their own homes to us. A real class act, that Tony.
I piloted the White Whale to his place early in the evening, enough time for him to give us the grand tour, take a quick swim if we so desired, have some dinner and rest/clean up before heading to venue. And his house was awesome, nice 2-story place, nice pool, and TWO jam rooms: one in living room with a baby grand piano, nice DW drumset, stand-up bass and an acoustic guitar. Second jam room had PA, electronic drumset, bass and guitar combo rigs. Awesome! He is a highly skilled player himself and encouraging his sons to get into music as well.
Pete the Beat immediately set himself up at the baby grand, and demonstrated his surprisingly awesome piano skills and singing voice. I was pleasantly blown away, had no idea! Many small jams commenced, Tony playing piano and singing, Pete and Josh alternating on drums, Josh trying his hand at the stand up bass. Tony ordered us all a fine dinner from a place called Woodlands. Not cheap and all compliments of our gracious host. Took a nap as opposed to taking a swim. Still tired in a bad way, as I'd already been playing shows w/Tessmer the entire week before this run.
Pete the Beat tickling the ivories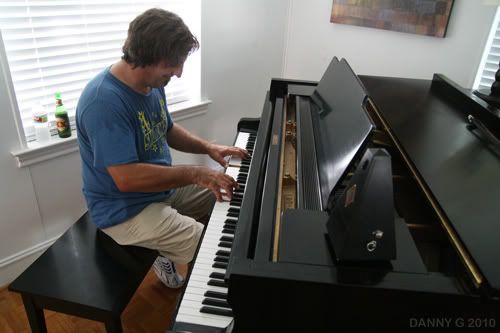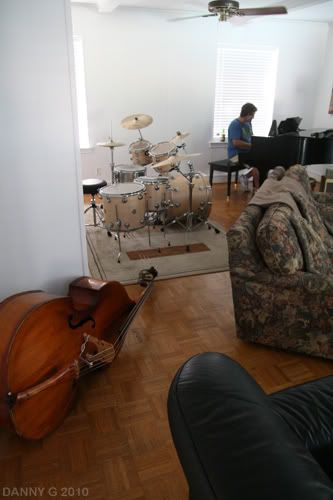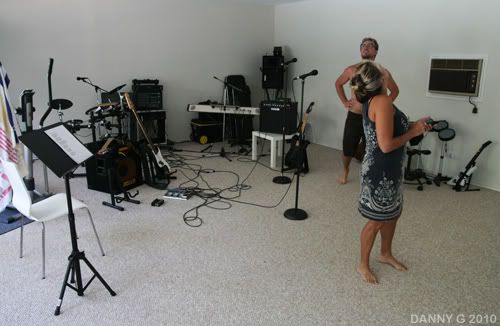 Our good friends Mark and Sarah Gonzales were in town for the shows and to see family, rode with us to venue. Tony sat this one out, will see us in Denton next night. Drive to venue was about 45 minutes, of course got turned around. Josh is good with maps but bad with technology, Teal is better with technology but bad with maps, Pete the Beat's eyes are going and I had only one good eye due to a wonky contact lens, heh! But we made it just fine. The Aardvark in a hip little part of Ft. Worth near a university. Recognized Fuzzy's Tacos next door, had lunch with the Ryan Bales Band there once. Crazy recognizing places I'd forgotten about and/or didn't know where they were to begin with.
Venue pretty cool, nice stage and lighting despite low ceiling. Opening band was good, forget their name (sorry guys!) but they were really nice in conversation at end of the night. Parked the White Whale in the alley next door and stacked gear by the load-in door rather than throwing everything inside while the other band was onstage (bad form). Staff nice, soundguy nice as well. Had a small greenroom for us with full rider for once, yay! However just a toilet in one nook with no door and I currently needed a more secluded facility, as felt like I had a balloon animal steadily inflating in my colon. Thank God there was a single-seater with a locking door, and woe to the unfortunate soul who had to use it after me…
Gear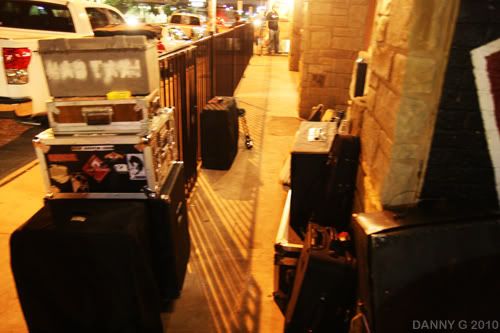 Met Justin whom I kinda know online and from almost getting Ironclad on the Dallas Doom Daze festival, which we had to back out of last minute. Very nice guy, type of person I'd hang out with at shows if we lived in same town.
Justin from the band Kin of Ettins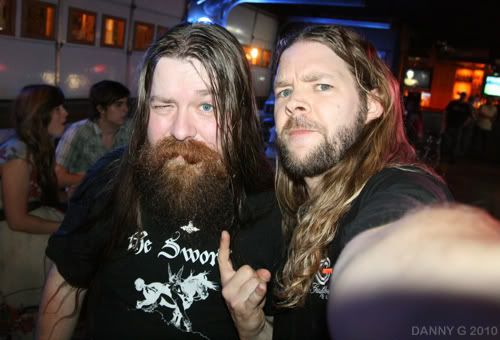 Had some fans in attendance for this one too, awesome! A better set than previous night, but not without its idiosyncracies. By a quirk of the stage lighting I was having a real hard time seeing my fret markers and landing my fingers in the right spots. Not end of the world, just had to pay more attention to what I was doing rather than just rockin without lookin. But Josh mentioned he was having same problem, so glad I wasn't the only one. Crowd not huge, but again totally involved. All these people will be back next time and with all their friends. An end-of-set bass toss was requested by a girl in the crowd, which I had to decline as ceiling was too damn low, even if I kneeled down…
Drive back to Tony's a blast. Pete the Beat in rare form, and trading some of the most horrible, dastardliest, most wrong yet so funny jokes whole way back. Things that are hilarious yet to terrible to put onto the written page… We will def add some of these gems to our between-song repertoire, so be forewarned! Our plans for a rip-roaring end-of-night pool party wound up just being me, Josh and Pete the Beat helping ourselves to the venue-provided chips & salsa, beer, and veggie tray by the pool. Rock n' Roll, baby.