Woke feeling tired like usual, but finally in a good way. Catching second wind from so many shows and my body now responding in kind. Neck not sore from so much headbanging, not feeling malnourished like I usually do (thank you Tony!). Opted to continue chilling rather than swim, but hung poolside for a long time. The plan was to start the 5-hour drive to San Antonio mid-afternoon and get in later to load in, as we had no hotel to kill time in and would be heading straight back to Austin after the show. Saying our goodbyes to Tony we presented him with the framed blowup of a jam room pic we took the previous afternoon which we all signed. He was so touched it was awesome, and it was literally the LEAST we could do to return the kindness and hospitality he had so graciously and selflessly shown us. A real class act, that Tony.
The new pack with Josh's infamous green "shit bag" in the foreground, immortalized in the chorus of "Van Tour"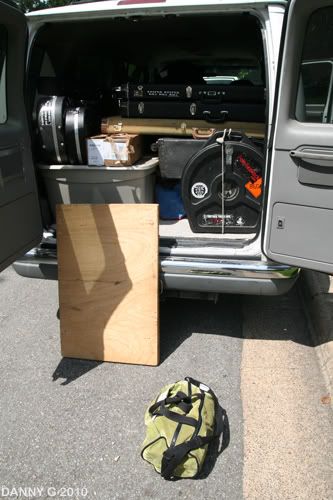 Saying our goodbyes with Tony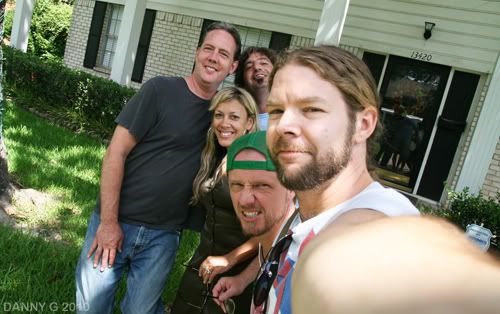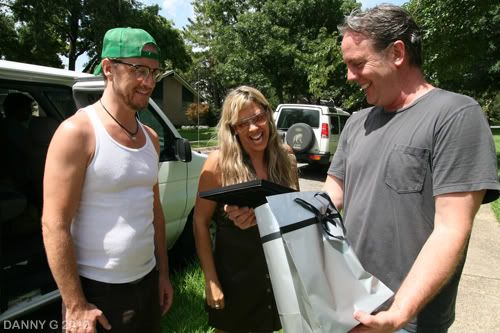 Did I mention his house was featured in the movie "Borat"? Served as the backdrop of a garage sale scene. Look familiar?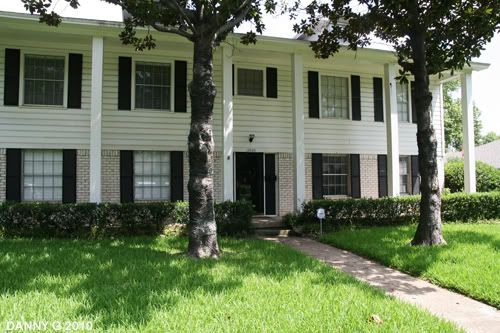 Drive uneventful until the clouds started to build and we started hitting patches of storms and heavy rain south of Waco. Continued on and off until San Antonio. Weird to drive straight through Austin and *not* stop. Arrived at the venue in time to load before first band started. 3 band bill, but with a fourth added last minute. So original opener had to tear down for the new opening band, which bought us some time to get everything onstage and out of the way. Had a green room, but no rider. Ah well, least we had our own room to chill. Really nice newer place in a newer part of town. Big stage with high ceiling, drumriser and great sound/lighting. But we had to set up merch in this weird side disco room with blaring crap music and crazy lights, which no one was hanging out in.
Missed first band in order to use my $10 buyout for dinner. Went to the Mulligan's next door rather than the wing place. Had an Italian Panini sandwich that was quite good. Caught some of second band but mainly alternated between catching up with some good friends of the band who came down from Austin and laying low backstage. Third band I was pretty musically impressed by, real dark/weird alt-country kinda thing. Josh: "They're the kind of band that just says 'Fuck you, we're going to play the music that WE want to play and there's nothing you can do about it." And they did it well. Thriftstore Cowboys I believe was the name, out of Lubbock.
And again, a decent crowd all night. Not huge but since we'd never been there before were thankful to have ANYONE in the crowd, let alone one really into us. 4/4 on venues we can build from, and a quick easy circuit. Something we'd benefit from doing every other month or so. Set went very well, best feeling show of the tour at least for me. We had fun, crowd had fun. Our loyal diehards of course requested an encore so we gave 'em TNT. Good times! Said our goodbyes to our friends/fans, hung a bit with second band behind the venue.
Then we piled aboard the White Whale and headed north to our own beds. All in all, this was a really good string of dates.