Slept well but woke tired. Been a long week and a half. Dreamt there was some kind of pool/lagoon/backwater area behind my parents' house. Saw some good sized sunfish swimming among the shallow water liles. Went inside for my fishing pole, would like to catch a few for a fish dinner and thinking "Why don't I do this all the time?" Came back and the water was rising, some kind of flood or storm surge. Water rose to the side of the house. When a wave hit the window I insisted that we all MOVE NOW. Parents and sister had been in living room, unconcerned until now. Was then going through a neighbor hood, looking for my fishing pole or looking for something. Found our garage but couldn't find pole. Felt as if I was missing something or time was running out.
Spent a leisurely day swimming and reading in Tony's living room. Read "Abraham Lincoln: Vampire Hunter" which was on the nightstand of whatever one of Tony's son's room I was staying in. All the while Pete the Beat playing and singing beautiful acoustic guitar songs in the other room. Had to stop reading several times and listen. Quite a talent, that Pete. I had no idea!
Jet contrails over Dallas TX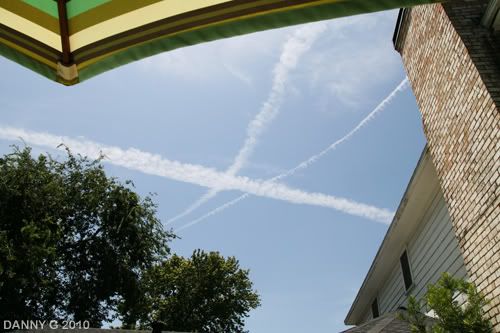 Josh and Tony catching some AIR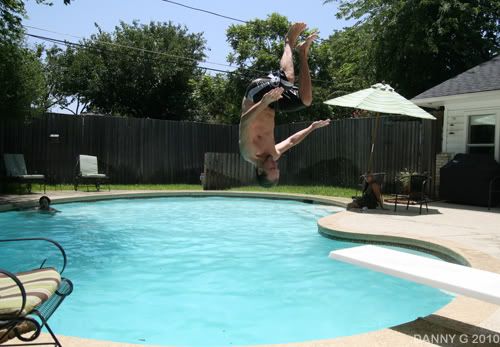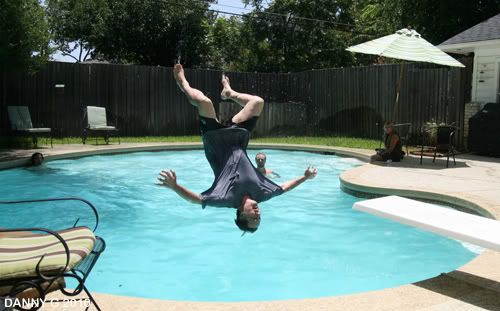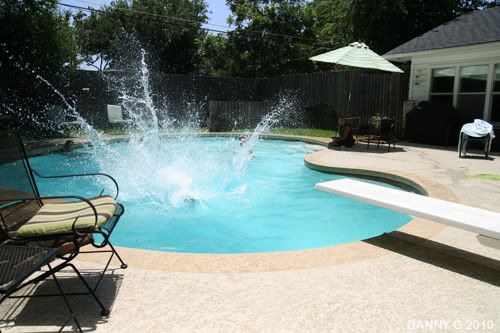 Had a jam with Tony in the electric jam room, played some cover songs he wanted to do. He was so excited and just eating it all up, totally made his weekend if not his year! Great fun. Took some group jam pics, which would come in handy very soon. Spent rest of day resting, jamming and reading. Kind of like being on vacation.
Another longish drive to the Aardvark in Denton with Tony at the helm. Have always heard that Denton is like a distant suburb of Austin, same cool laid back vibe. Nice little town square with big clock tower, some kind of hippie drum circle going on in front. Dismayed to see the stairs leading down into the front entrance… but they had a ramp off to the side. Yes! Smallish but long room, decent lights and PA, another low ceiling and no smoking ban.
Got our gear stowed side-stage right before the Jungle Rockers took the stage. I've seen their name all over Austin and they play shows with Amplified Heat, but have never actually seen them play. And I watched a lot of their set, if that says anything. Cool 50's gearhead/surf music. Cool sound and good singer. Had a cat playing morracas and tambourine, wondered what that was about but he had some real skills with them and was a big part of the sound.
Next band The Heelers were good but didn't really grab me. Probably cause at this point an impromptu Foozball tournament had begun between Tony and his friends and Josh and myself. Playing Tony solo he was kind enough to give me some good tutorials on proper technique, as I had no understanding of the game whatsoever, heh! Very helpful and informative.
Yet another not-great-but-really decent crowd. The people that were there dug the shit out of it and will bring their friends next time. Better set as well, no problems with quirky stage lighting, tho stage itself very bass-heavy and had to keep rolling back lows. Also that 4x10 I'm currently using just sounds so flat. Good show all around, and Tony's first time seeing us! Ended a bit anti-climactically with "Can't Sleep in Tucson" but that's all we had time for. Talked to a lot of nice people afterwards, one fan took me to the bar for a drink. Asked for a Jim Beam on the rocks, and bartender poured 2. So I asked for a bigger glass and combined them into a double! Loaded out and headed back to Tony's. Fun night. Stayed up a bit reading.