Just posted some Fu Manchu, Lions and Stinking Lizaveta pics to this blog. Photoshop Elements 8 ain't so bad, took a little getting used to but soooooo nice to be able to finally edit and watermark pics.
Did final tests on the Rangemaster clone and it's a real nice sounding pedal. Talked to the guy I'm building it for and probably Tuesday we'll do the transaction. Yesterday spent a lot of time playing guitar to test it out, but also just to PLAY. Came up with another riff idea, this has to be the most musically creative week I've had in a long time. Then switched to bass and played along to Eric Tessmer stuff on my iPod to get ready for the show later that evening.
Tried to get to Maggie Mae's early for parking reasons but still skunked. Got there to load in at 6:30 and still had to park at 10th and Red River. Damn. The show itself was OK (upstairs stage), more people there than last time. Not that any more of them were paying any attention. We all played pretty well tho, felt like to me. Guess we'll consider it a warm up for Thurs/Fri/Sat next week. I can think of far worse things to do for money than playing music, so there ya go. Heh!
Was able to get out early enough to still hit Momo's for Adrian and the Sickess' CD release party for the new disc ("BFD") which they did with Kathy Valentine of the Go-Go's. Won a free copy Tuesday and it is awesome. Parked and arrived in time to catch their full set, that was cool. The Cola Sisters were there (from the local access cooking show "Cookin' Good") doing raffle prizes. Awesome. Our good friend Val was there, as was Amber. Got to catch up with them before Adrian started. Good crowd too, everyone there was totally into it. They sounded awesome as usual, Adrian going nuts onstage as she always does. Some people are having so much fun onstage they can barely contain themselves, others have a set of pre-arranged rock "moves" which they execute. You can tell the ones who are real about it.
Adrian Conner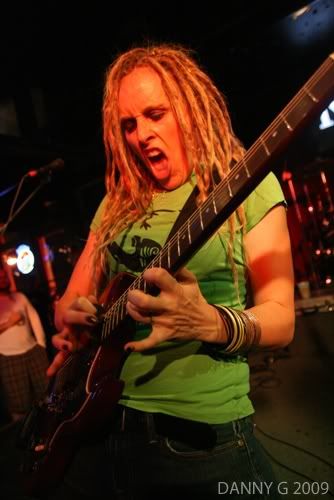 Heather Webb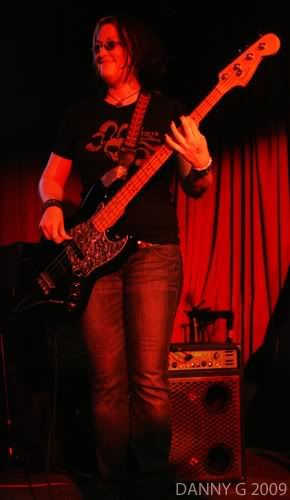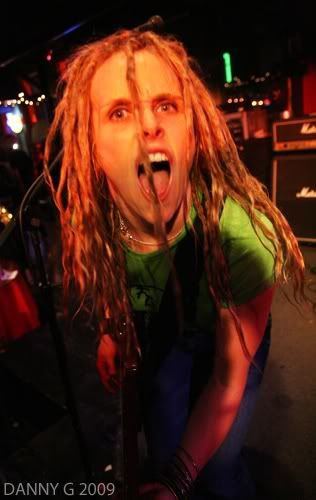 Kathy Valentine joined them onstage on guitar/vocals as well, and they had a guest keyboardist as well. During a lull between songs people were yelling out requests. I yelled "So Bored" and Heather immediately went into it. YES! It and "Modern Freedom" off the new one are my two fave tunes of theirs. Afterwards caught up with Furley from Sabbath Crow (and Adrian's first drummer down here) as well as Kathy, a good friend of the Sickness whom Gina and I gave a kitten to few years back. So she's pretty much family, heh. Good seeing all of them, I feel truly blessed to know some damn fine people. All in all a very good night. Pics of this evening as soon as I get them off the camera.
Kathy Valentine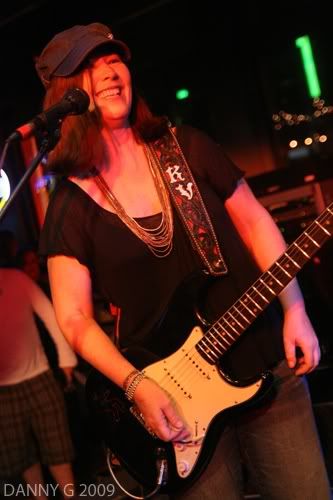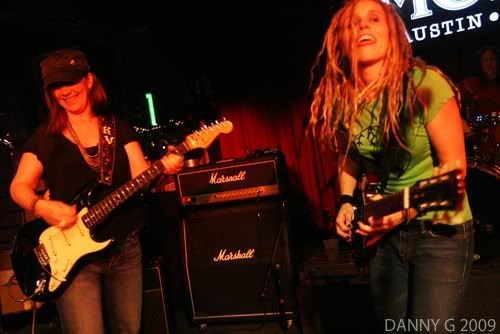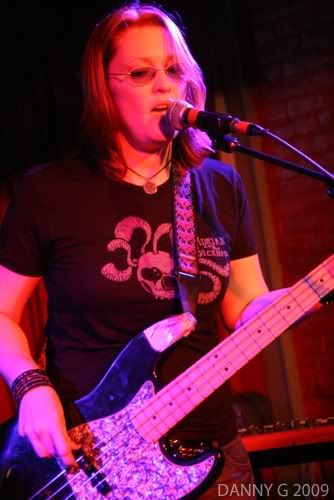 Adrian rocks out the Cola Sisters from "Cookin' Good"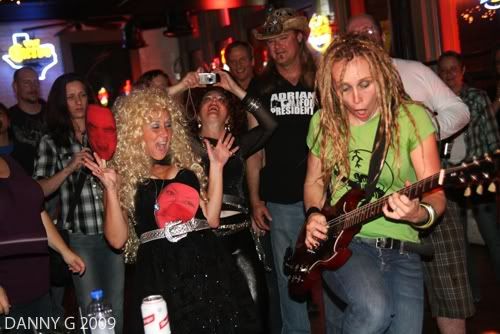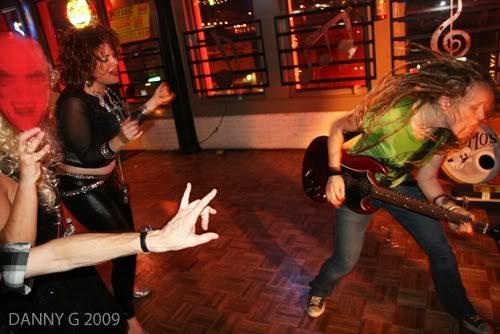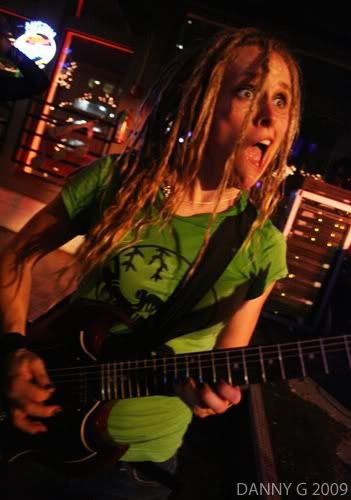 Adrian and the Sickness w/the Cola Sisters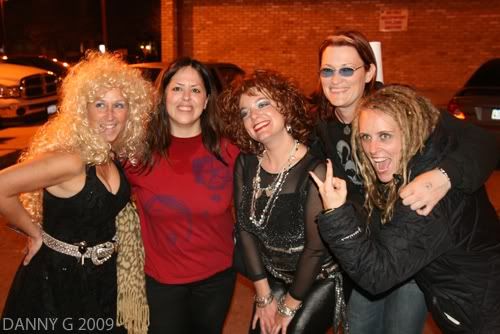 Compiled a list of local Austin publishers to check out, narrowed it down after checking some websites. Triniti and her friend had the idea of having the book ready by SXSW. That would be pretty ambitious but also a good idea. I replied that I'd rather take the time and do it right rather than do it quick and half-ass it. But we'll see, not out of the realm of possibility.
Also: follow up on my spill in Philly that tore my fingers up pretty bad. Aside from some remaining pink knots of scar tissue my fingers have been 100% for a few weeks now. However, the bruise under my R middle finger nail finally separated from the skin. So there's a section of the middle of the nail 1cm x 1cm that is not attached to any skin. Doesn't hurt, just feels weird as hell. Gotta use my left hand to open beer cans now, heh. But my nails grow fast so shouldn't be any big deal. Just kinda gross so I thought I'd write about it!