Saw Stinking Lizaveta (myspace.com/stinkinglizaveta) last night at Emo's. AWESOME show as always. Will post pics when I get them off the camera and edited.
It's great how musical they are, and play with such intensity and conviction but the vibe is FUN. They enjoy and believe in what they are doing, which makes the audience enjoy and believe too. You can't fake that shit. Sucks the crowd was so thin, guess everyone was partied out from Halloween weekend. My sis Trinti Young was there, saw JT Drunk (Dixie Witch) briefly as well. Got the guitar "hand off" from Yanni again! That's three times so far, guess I was the only guitarist in the crowd, heh. Good to see them again and catch up a bit, Yanni, Alexi and Cheshire are all top-notch human beings. Josh from Invincible Czars was there later and was letting them stay at his place. Caught up with him as well, he's a really good dude and his band/playing is awesome.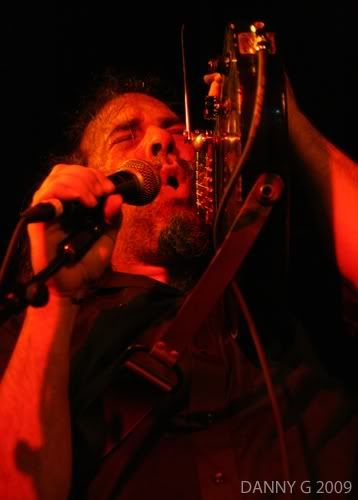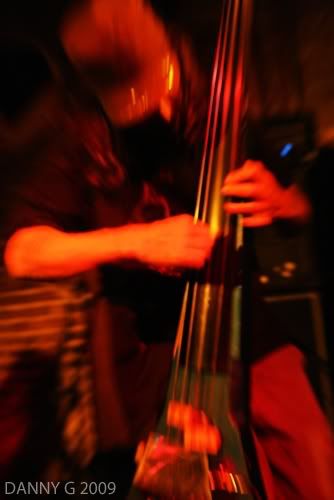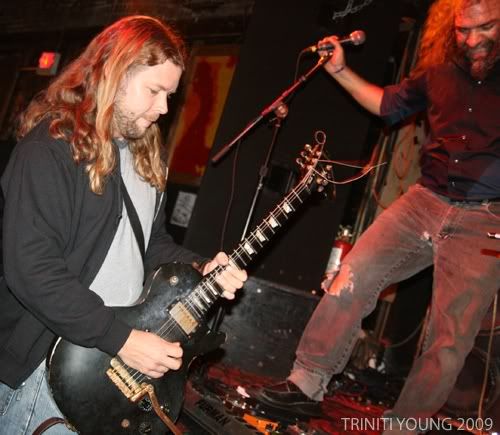 Finally heard back from Ty Tabor last night, texting to apologize for the late reply and that he'll be in touch in a few. Awesome, was about to call him again. Will be good to see what his studio rate is, would much rather do the RRDC stuff with as much name-recognition as possible rather than just me. Still have Chris Goss' contact info but want to see what Ty's rate will be first. Awesome. Things finally getting in motion. Once I know which way the current is going, I will know which direction to swim, if that makes sense.
Yesterday left a message for Dalton Publishing re: Room 710 book. Looks like they do mostly fiction and poetry, but maybe they can point us in the right direction of someone who might be interested. Or at least give some pointers in how to go about putting this together. Came up with the best sales pitch I could off the top of my head, made sure to use the phrase "We can't sit around and wait for someone to document our music history, we need to write our own" or something like that. Which is the God's honest truth and our whole motivation. We need to document and preserve our OWN music history because no one is going to do it for us. And Austin/Red River is changing so fast that soon it will all be gone, so the time for action is NOW.
I also need to renew my effort to play every day, whether it be drums, bass or guitar -- playing and writing new stuff, just fucking around, learning new things from albums, refreshing current band material, playing old shit. I need to do that. Every day. No matter how I feel creatively, mentanlly or physically, I will ask myself: "Do I want to get a little BETTER today, or a little WORSE?" Trying to let Henry Rollins' work ethic push me to push myself harder. I have not felt like playing at all lately and can't let my mood or what is on my mind keep me from bettering myself as a player.
So I set up the drums in the garage and played for about a half hour. That felt good. Also brought my guitar pedalboard into the room and played thru an amp finally. I need to take my Les Paul Studio back to Carter for a set up. He fixed the 2nd of two neck breaks on it and it could use some professional attention. Bad string buzz and dead frets all over the fucking place.
Been trying to learn slide as well. Ugh, not going good at all... Will try to get some pointers from Amber when I see her Thurs/Friday. She pulled out a pretty good slide solo during the Amber Lucille show last Sunday. Damn! Makes it look easy!
That and the Rangemaster clone parts came in the mail today. Can finally get to building that for Westley. But of course, looking through my parts bin I am out of a few components I need. Well shit. Only place I've been getting parts is way the hell up north, maybe I can swing by there when I drop Nacho back off at the house (been watching him since yesterday, ate something bad and took him to the vet). Or try to find a new place down south...
Still waiting to hear from Tessmer re: shows this weekend. Dude, I know you're in Wisconsin right now, but it's Tuesday and I need to know if/where I am working Friday and Saturday! Kids.... heh