Parked in a Wal Mart parking lot.
Loaded the trailer with Jrab and Wilson (merch) earlier today. Didn't even break a sweat, the weather is gorgeous! Good to see Wilson again, Ryan (bass tech) had to pick him up from the airport early in the morning after the little bus party last night. In the storage space found an old backup amp case and put Ty's cables and accessories in THAT instead of that big fucked up 3-legged dog case. That's going to save alot of trouble. About to pick up the band and head to Birmingham. It's Ty's birthday today so we got him a cake. At Dug's house I tripped out on his little Ampeg mini-stack. I want one!!! He joked about getting 10 of them and ten of his little Marshall Lead 12 stacks and using that as a rig. Nice!
Happy Birthday, Ty!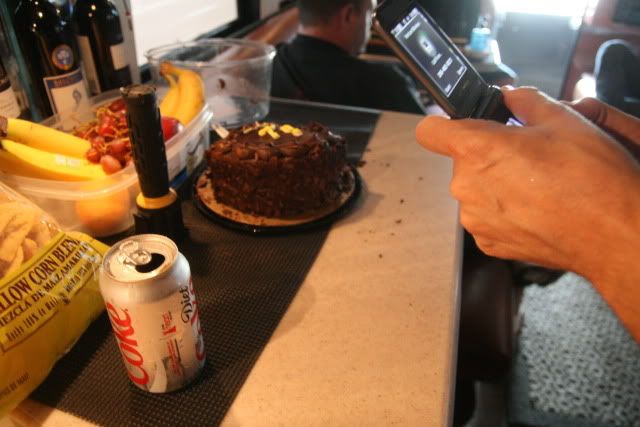 Mini Ampeg stack. I want one!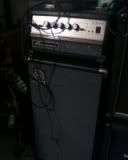 Last night the bus christened "The Black Panther" (as per the theme song Dug wrote for a BET Cartoon of the same name). It's usually "The Black Pearl" (looks kinda like the captain's quarters on a pirate ship) but this name is more fitting for this run. Heard it was Lenny Kravitz's old bus.
THE BLACK PANTHER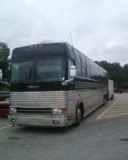 Drank beer on the bus with Jrab, Gary (tour mgr/FOH), Ryan and his girl Dawn. Woke with a headache, whoops. Made loading the trailer that much more fun!
Later:
Spirits are high and morale is good tho trip just starting. Had cake on the bus for Ty's birthday, he got a kick that mine is tomorrow. Dug's was earlier this month. A high number of my musician friends are all also Virgos. Crazy.
Drove on into the night, stopping in Mississippi somewhere for more beer. Played some Grand Funk Live Album on my iPod, got into a good talk with Dug and Jerry about them back in the day. Dug is going to burn me a bunch of their old stuff: "Man, why didn't you TELL ME you never heard them before! I woulda burned you stuff a long time ago!" heh.
Debauchery aboard the Black Panther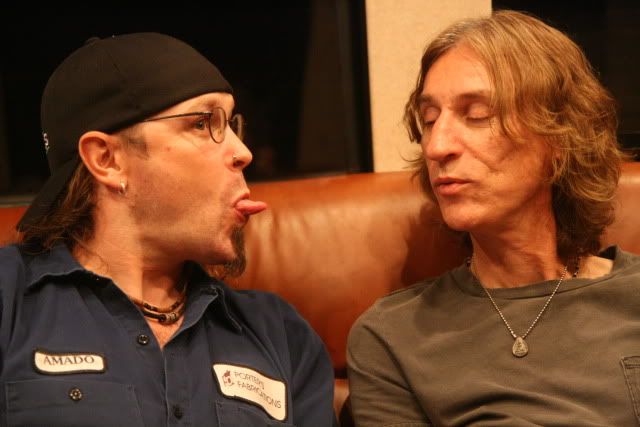 Watched 'Deadwood' with Wilson, Jrab, Ryan and Gary and drank every time someone yelled "cocksucker!!!" Which means we were getting drunk cause they say that ALOT if you've never seen the show... Still an early night tho, most of us dispersed to our bunks before midnight. Slept great. Remembered to take a bunk water with me...!
A gas station in Mississippi. Yes, that is a full-sized stuffed alligator hanging from the ceiling.