Tues Sept 22, 2009
Cleveland at the House of Blues was pretty good. Porcupine Tree was running hella late (coming straight from LA I believe), but a few of the crew guys were there and seemed nice. We squeeze onto out designated stage area no sweat, set up and are ready to go in 15 minutes if that. Crew morale high, band morale a bit low. Before we went on PT's tour manager informed us that their one guitar tech would be taking up most of Ryan's side of the stage (stage R). No problem. King's X able to walk onstage from behind a curtain. Dug peeked through, came back with a shocked look on his face: "Holy shit, this place is packed!!" People in the crowd whistled and yelled "King's X is in the HOUSE!" Nice!
Cleveland House of Blues, PT fans lined around the block and into the adjoining alley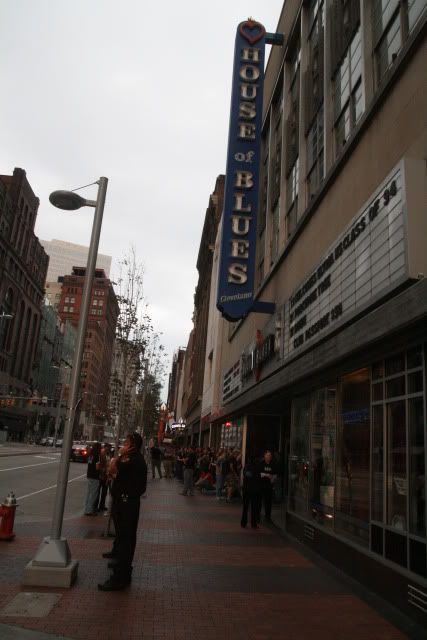 Ryan 13 and Jrab having a pre-show beer in my guitar world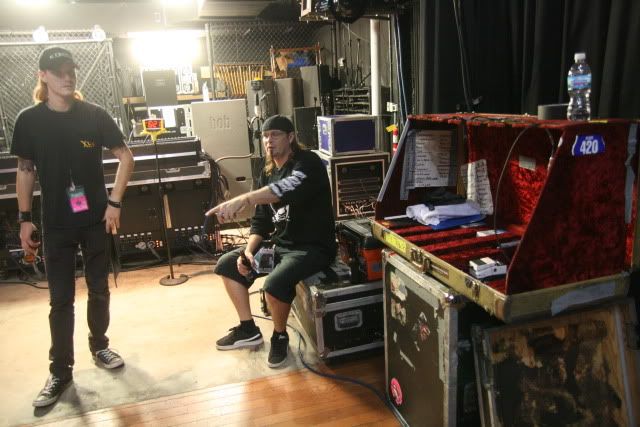 Ty's new accessory case has made my life SO much easier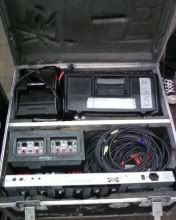 Backstage band graffiti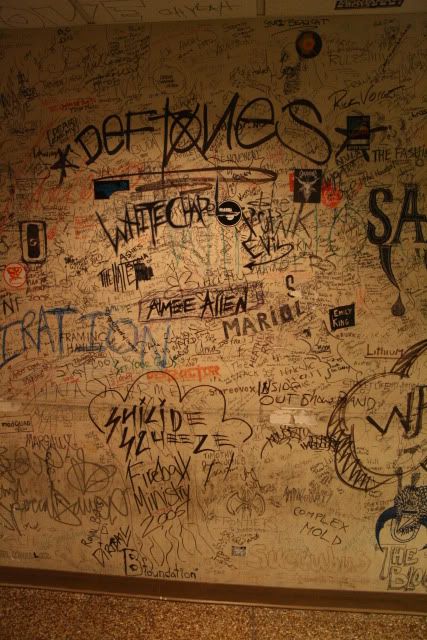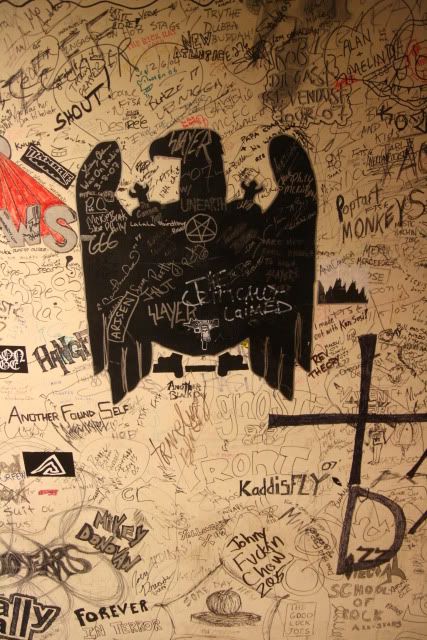 They went on, did their truncated 45 minute set and knocked em dead. Great show! And with the help of the loaders we tore gear off the stage in 5 minutes flat! Such a good load out I had an adrenaline rush as if I had just played. Awesome! By then PT was loading in and the show was going on as planned (King's X may have had to play a few more). Ryan said he had a brief meeting with PT's guitar tech. Ryan introduced himself, the tech replied in a weird deep voice with an English/German accent: "I'M TONTO." Nice
King's X @ Cleveland House of Blues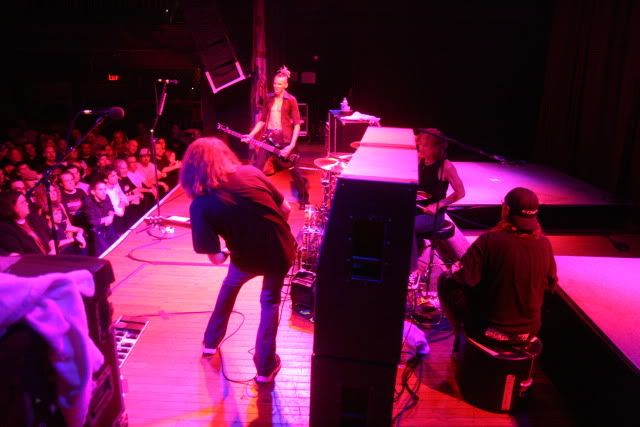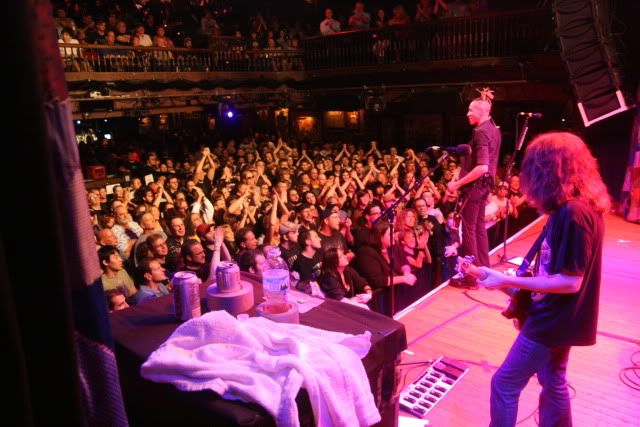 Don't get to check out PT, but Dug comes back onto the bus rather upset. The aforementioned techtold him he wasn't allowed to watch from the side of the stage. Aw man. Set the tone for the next show unfortunately.
After the show Ryan and I escorted Dug and Jerry to help this drunk cousin of Jerry's GF find some friends. Wound up at some bar on Prospect, don't recall the name. The cousin is a good-natured drunk and buys us a round or two. But this is where the security aspect of my job comes in. Keeping an eye on the band members when out and about. Outside we'd always get hit up by people asking for change... "I just got out of jail" "My daughter was killed and the guy got 19 years". Fuck man. Ryan and I hung out but also had to stay sharp and make sure nothing happened (in the past band and crew have been robbed). Nothing happened but still sucked tho.
For Chicago we roll into the Vic Theater at 12pm and load our gear across a busy street inside without setting it up. And then wait for more than 5 hours. Downstairs the crew had only chips/salsa and candy to eat, as food from our rider had been cut. Spent my $10 buyout at Subway. We had only time to set up and check levels, as we weren't given time for an actual soundcheck. And there was an "early entry" which had the venue filling up while we are still checking mics. Doors were still in 20 minutes. No time to run through a song or two so Dug could dial in his in-ear monitors.
King's X had to go on for a now 40 minute set w/o proper sound check but they still knocked em dead and won over new fans. Then again with the help of house loaders we were offstage in 5 minutes. We did our jobs and got the hell offstage and felt good about that. But still was not a good night.
Checked out some of Porcupine Tree's second set, and could def see what the hubbub was about. Very professional and def a production. One tune very Tool-sounding with a Tool-esque video playing on the screen behind them, music perfectly in synch with the edits of the video. Then a laid back Pink Floyd-esque tune where the only light onstage was the video screen on the singer's guitar. I need one of those! Then another more uptempo rocker with a movie behind them about pills and drugs, perfectly synched to the music. But still was not a good night.
Spirits were a little better on the bus at least as we left to begin the long trek to NYC. Hung in the back lounge as Ty schooled me on some great music, Wattie Wattell (very famous early 70's guitarist), Free (proto Bad Company) and lots of other great shit I'd never even heard of. I almost feel embarrassed to be living under such a rock sometimes as a player myself, heh.
The only pic I took in Chicago was of authentic Chicago deepdish pizza. Was like eating a cheese pie, holy cow!