Trying to decide what to do right now.
Would like to go running either now or later. Guess I'll try to reach Gian and see if a jam today or tomorrow will happen. Brandon is down tho, maybe have him over and at least work on drums (not a bad plan since I'd like to re-record with an actual drummer). Need to get together with Triniti and get crackin' on the 710 book as well. Also need to call Adobe Support and find out what the fuck is up with my Photoshop.
Last night played some bass for a long time, using the Pocket Rockit to play along with my iPod. Went over Charlie Daniels "Caballo Diablo", the intro to "Long Haired Country Boy", "Georgia" and "New York City." God that shit is fun to play! Then went over the whole Mother Truckers "Let's All Go To Bed" album. About 90 minutes of straight playing. Felt good.
Went to Nebula at Emo's later in the evening, got there about 11:30 and Nebula was just setting up. Out back bumped into Ving (Black Earth) and Isaac (Rank And Revue mag). Had a good talk about staying busy and about Red River in general. When I brought up the 710 book idea he echoed everyone's sentiments, that I'm the perfect man for the job ("You've been documenting it all since about the beginning"). Can't let this opportunity slip away due to unmotivation. This needs doing. Sucks that I'm working thru some personal shit that is dragging me down and sapping said motivation. Anyway, he is about to move to greener pastures in Portland OR. Told him to keep an ear to the ground for me, you never know where the next opportunity will arise.
Nebula sounded good, wasn't blown away but I still dig 'em. New rhyhthm section (well, new to me... haven't seen them in a few years). Mostly stuff off the new album, not anything I recognized. Decent crowd but a typical slow Tuesday night.
Nebula @ Emo's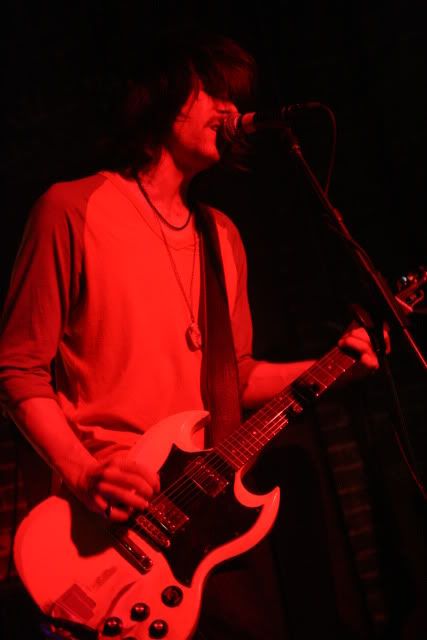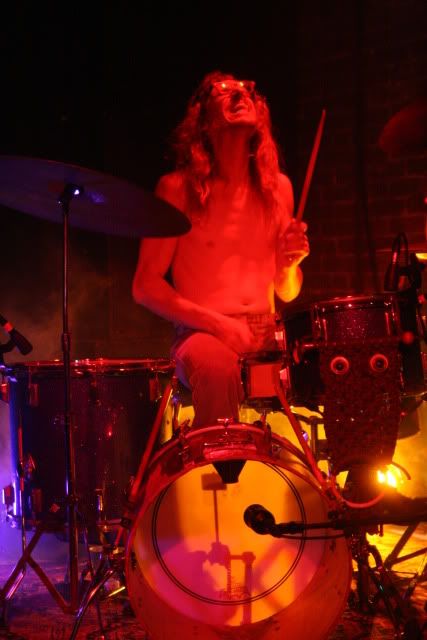 About mid set walked over to Friends on 6th Street to say hi to Erin Jaimes. Got there and she's outside smoking a cig watching thru the window. She was on break and had some other cats onstage. Bought her a blacktooth grin and shot the shit with her and Doug Day (also taking a break). Wound up sitting in for 3 songs, Erin really wanted to introduce me to Tony the guitar player (knows Josh and Teal from the Truckers). Great player, fun sitting in. He asked if I knew how to play "Long Haired Country Boy".... nice! I gave him a serious look and said "Yes. Yes I do!" heh. Felt weird playing Erin's bass (old 60's Tele bass with a baseball bat neck and flatwound strings, strap pretty high on me) but it sounded cool.
Good times! Shot the shit for a bit then ran back to Emo's to catch the end of Nebula. Who were done and packing up. Damn! Also the bar was closed (1:20am?!?) and I wanted one last beer. Well shit. Talked to Eddie Glass for a bit, mentioned Southern Gun Culture playing with Nebula in Albuquerque back in '03. The guy talking to Eddie was like "Hey, I remember that show!" Nice. Gave Eddie a card so I could get some pics to him, went back to Friends for one last beer.