Well well well. Happy Birthday to me!
Got a call from Chris (Splithoof) last evening asking if Ironclad was available to open the Splithoof/Stone Axe show on @ Headhunters on Saturday. Short notice for sure, but I called Stooch, Tank and Adrian and strangely enough everyone's available. Sweet! Was going to be at that show anyway, bummer Blood of the Sun won't be able to make it. (If you've never seen them, do yourself a huge favor and check them out!!!). However, we have not played together since SXSW (mid March) and will have no time to practice before Sat night... But who cares, it's ROCK N ROLL!!! And to think I almost went through the month of September without playing a show!
Awesome. Still battling the cold but the show offer put me in an even better mood last night. Caught my bros Son Of Fire at Stubb's, who had a good crowd already for a rainy Thursday night. Caught up with Jason from Velvet Brick, bumped into Val and Jason System as well. They tore it up as usual, reminding me of the Grand Funk Live Album that's been kicking my ass last few days. Great band.
Son Of Fire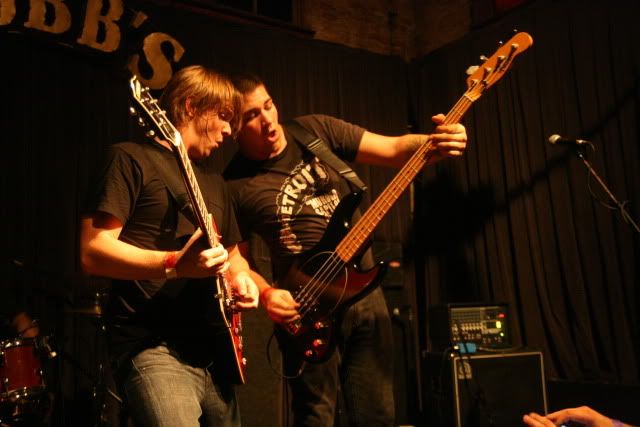 After their set walked a block to Red 7 to catch Adrian and the Sickness, who had just started. Score again! Another decent crowd for a rainy Thursday, and the outdoor venue is hard to fill. Not huge but enthusiastic (how you can NOT be watching them?!?). They sounded great, saw that Heather was playing the Trace Elliot bass combo amp I fixed for her months back -- asked me to take a look at it, I am handy with a soldering iron but offered no guarantees... but just a loose wire! Easy fix! Mid set they offered a birthday shout out to all the Virgos, Adrian wished me a happy birthday as well. Then some lady gave me a birthday hug, heh. Adrian asked what Heather wanted to play next, I yelled out "So Bored", and they were like "OK, we'll play that!" Nice, one of my fave songs of theirs. Good show, good times.
Adrian Conner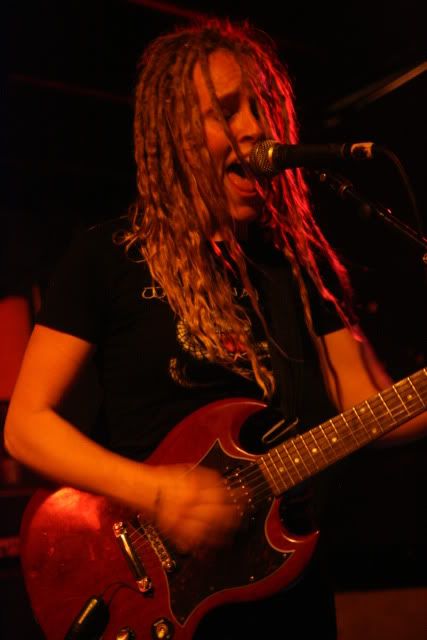 Chatted with Val on the way back to Stubb's, caught Velvet Brick for a few songs. But I was fading fast and had to leave early. Damn cold.
So today I don't feel as bad (but still bad).
Have been preparing my guitars for battle, changing the strings on the '79 Iceman (Gillian Anderson) and tuning the '96 Paul Stanley Iceman (Salma Hayek) back down to D standard. Played thru Ironclad's set twice, once on each guitar to see how they'd play. PS Iceman played well despite being intonated for E... Also took a crack at the wiring issue of its newly installed toggle switch (in an effort to "standardize" the toggle caps of all my guitars I replaced the switch... the stock one required a toggle switch cap which broke often and I could never find replacements for). Fixed it somehow. Toyed around the idea of rewiring the whole damn thing again (pickups were mis-wired by me and out of phase in the middle position) but since I never use the middle position anyway, figured if it ain't broke don't fix it. Will be bringing it tomorrow as a backup and I need it to work.
Been promoting the show via MySpace and text invites all day. Nice to finally have something promotion-wise to do... Need to check out what's left in Ironclad's merch box as well.
Let's see... still need to call Kenny Wagner re: set time for tomorrow night, and call Scott Reeder back. Need to email Chris Goss re: his studio, no word back from Troy Lucketta re: his new project. Tried to call Barry Squire (talent scout) yesterday but voicemail was full.
ALSO: Shandon called/MySpaced. Looks like the Amsterdam thing in November might happen after all... said he hooked up with a promoter that can get us a week's worth shows, a van, backline, and a place to stay. And probably some good crowds since Doug Sahm is still huge in Europe and we'll be playing a set of Sir Doug tunes. Fingers crossed.
Signed up with Google Ad Sense earlier today. Using that I can put ads on this blog and generate some income from it. Sounds great!
Thought about going to Guitar Center for strings and picks, but don't feel like it.