Thursday Sept 24, 2009
So the bus wouldn't start in the morning.
Turned out to be a bad fuel filter, but we were already having flashbacks of Seattle over the summer (The Gold Goose broke down somewhere in WA, leaking diesel in the parking lot, had to rent a panel truck for gear and a 15 passenger van to get to the show, and it was actually hot that day. VERY long day...). But a mechanic guy came out and he and Robert got The Black Panther up and running.
But the day for me took a turn. A forumite on StonerRock.com from Chicago went missing a week and a half ago. No word on where he went or evidence of foul play. I didn't know him personally but I built a pedalboard for him about 2-3 years ago. Never met in the flesh but shared correspondence. That morning a jogger found his body, he went into the woods and committed suicide. Man, sucks. My heart goes out to his family. If he could have seen the concern and outpouring of support on SR.com for him over the entire time he was missing maybe it would have changed his mind. Or not. We'll never know. RIP Tariq Ali, may you have found the peace you were looking for.
So yeah, my excitement for finally going back NYC wasn't what I would have liked. But on the way in exchanged texts w/Eric Tessmer, looks like I will be doing Antone's with him on Oct 8th, after doing the Continental Club happy hour earlier that evening with the Truckers. Double duty and a long night, fine by me! Other gigs and possible touring in the future as well. Cool.
Fall "color" on the way to NYC, damn tinted windows...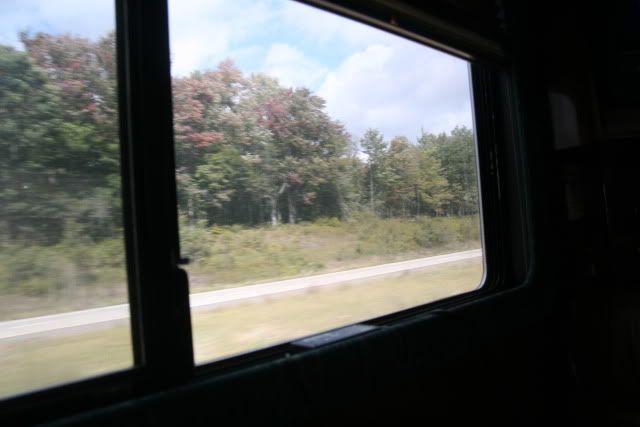 Manhattan skyline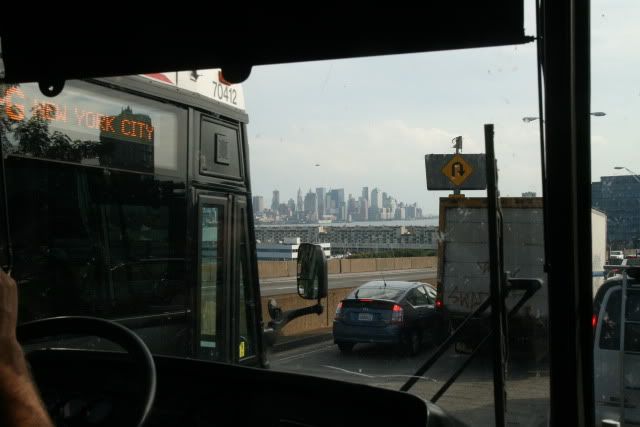 Lincoln Tunnel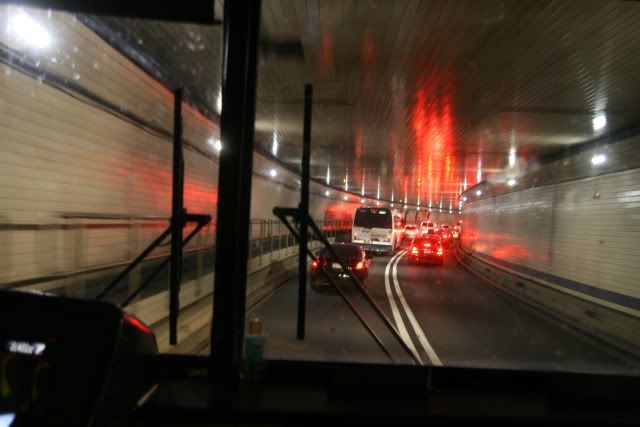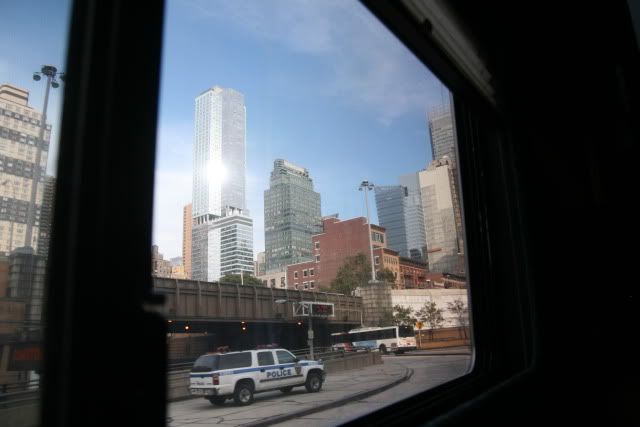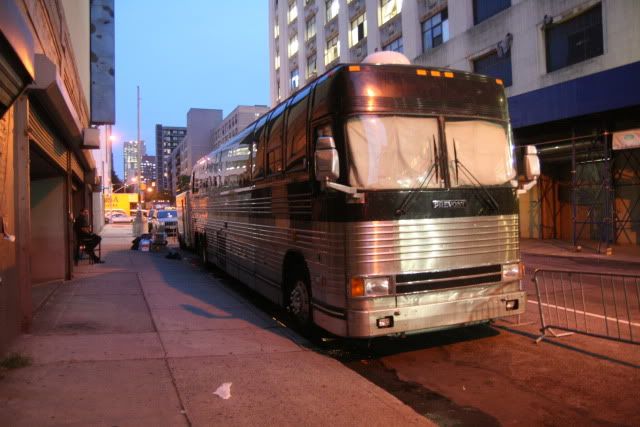 Got in that afternoon and pulled up to the venue at W55th and 10th Ave I believe, right by the water. Didn't have time to take a walk, that sucked. Made it as far as the end of the block and had to turn back. Vibe between crews was SO much better this time. Plenty of loaders as well, who were union so Ryan, Jrab and I didn't have to touch anything. Awesome!
Full rider, plenty of time to soundcheck. Packed house by doors. King's X knocked em dead as usual. By 3rd song in (Lost In Germany) most people are at least bobbing their heads, and most everyone cheers when Dug asks "CAN I GET A WITNESS" during his nightly "Over My Head" mid-song sermon.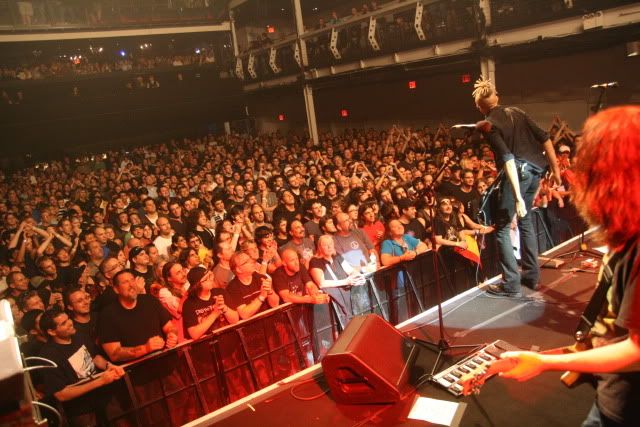 Cleaned up fast as I could and hoofed it to McCoy's on 52nd and 9th I think for a quick beer with my friend Charlotte (posts on SR.com as well) and her friend, they were headed to a work party. Good to see her again, awesome person. Lotta good people on that site, have friends in most major American cities from being on there last several years. But my time isn't my own so headed back to the venue to load.
On the way out of town stopped briefly at the carrier Intrepid before stopping at this amazing pizza/burger place at 77th and Broadway. The fresh fruit market next door blew my mind. Didn't know that many kinds of fruit existed or seen it so fresh. Damn! I had a slice of pizza the size of my chest with pepperonis the size of my head. As Jerry would say, "It was AMAZING!!!"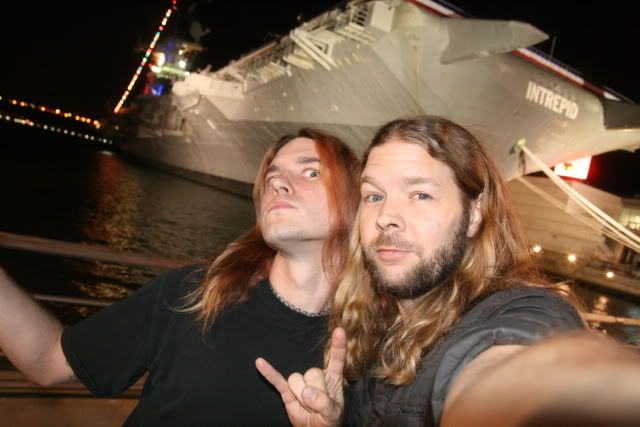 "Hey Jrab!" *click*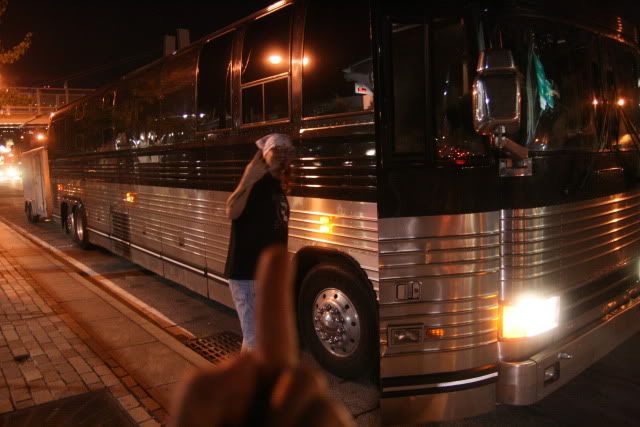 This guy was as amazed by all the fruit/veggies as I was!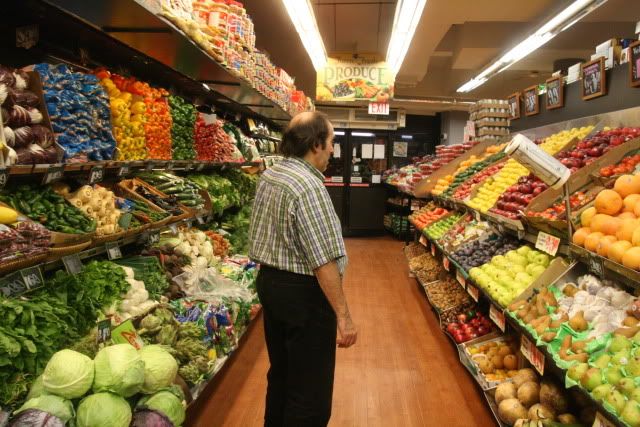 Wilson, Robert the driver, Ryan 13 and Gary