Saturday September 26, 2009
Woke at a Flying J outside Philly somewhere. Gorgeous weather, fresh breeze. Bus windows open to air it out. Finally one with a different layout than the last 3 we were at, was like walking into the same place 3 times but in 3 different states. Weird. Got a chocolate milk for the nutrients and made an awesome sandwich on the bus. Weather turned before we left. Clouds came in and nice breeze became chilly.
Philly looked familiar as we drove in, recognized the big ship harbor from when I was there 2 years ago w/Under London, the big bridge we drove in on last summer with The Mother Truckers. Other cities like Flagstaff AZ I've been to at least 5 times and I still don't recognize anything.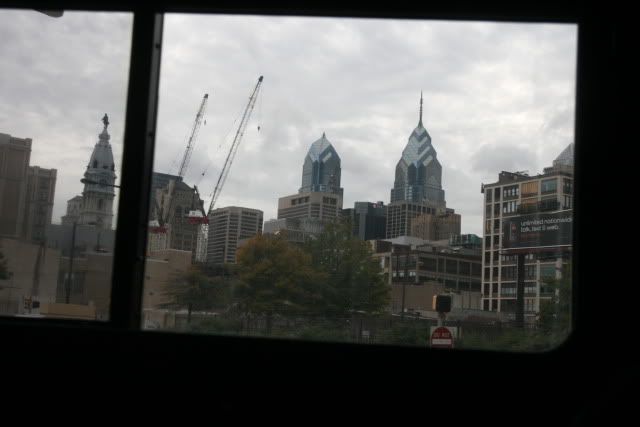 Another nice venue, Electric Factory a big brick building in a questionable part of downtown. Inside big stage and lights, balcony, holds at least 2000+. Word is this one didn't sell out until word was out that King's X was supporting. Then the last few hundred tix were snatched up. Awesome. Big backstage area with hallways, rooms, alternate access to the stage. Got lost a few times. Bathrooms painted in weird designs with day-glo paint. But lo and behold, a washer and dryer! Was running out of clothes at that point (recycled back to jeans from first days of tour, was elated to find 2 black shirts in my suitcase yesterday, heh).
Backstage lounge. Buncha weird shit, out of tune piano, fucked up pool table, shuffle board that didn't shuffle, weird bar in the back with Bogey and The Duke: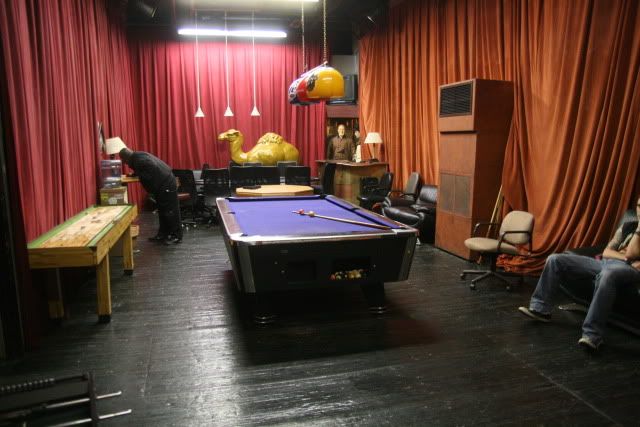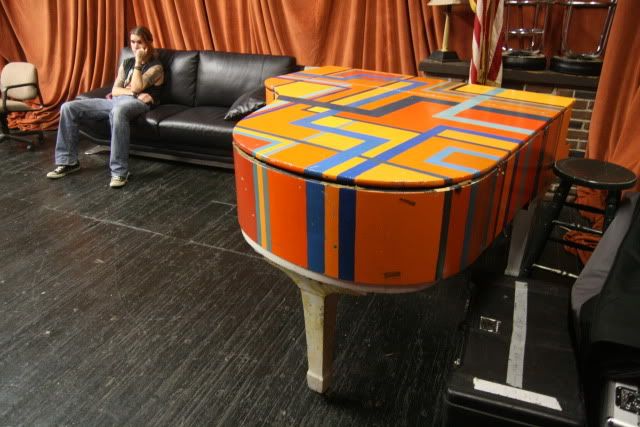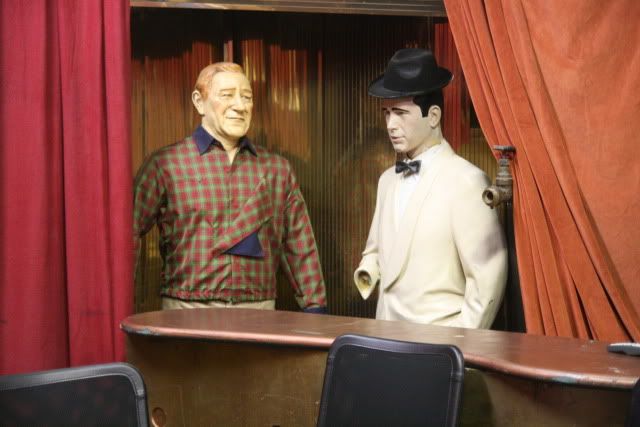 Hallway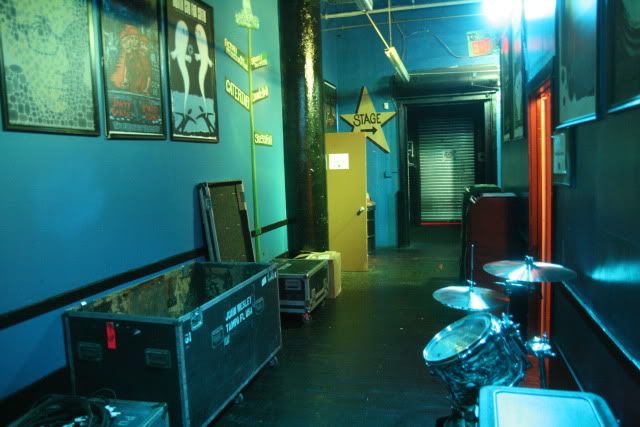 Washroom/bathroom area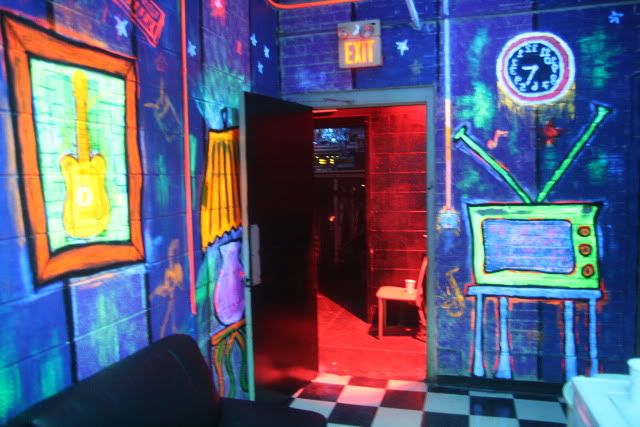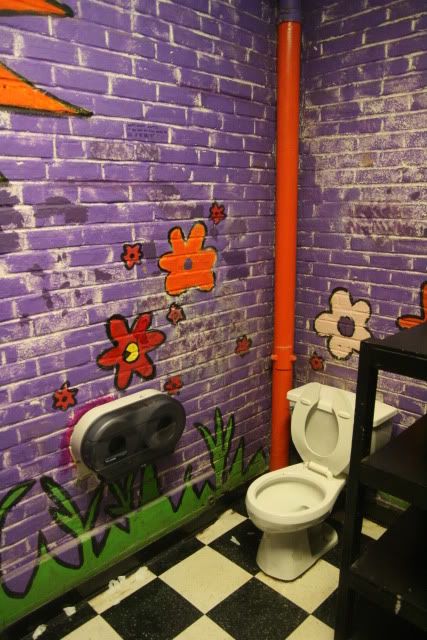 Dressing room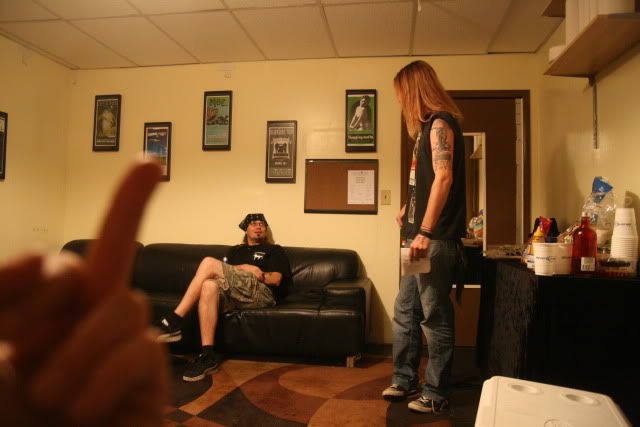 Had some helpers to get everything up the big ass metal ramp, started to rain soon as we got everything inside. Hopefully it'd stop or load out would suck. It didn't and did respectively, but I jump ahead of my tale. Got everything situated, Jrab showed me some ins/outs of setting Jerry's drums up (I'd be drum teching for Canada since Jrab can't enter the country, long story). Have set them up in the past (my first tour after Jrab wound up in the hospital w/the flu and bleeding ulcers) but was nice to finally learn the 'proper' way, heh.
Catered food in a common room, sandwiches and this amazing pasta salad. Had a double helping of each to keep up my energy reserves. I'm not eating enough and am not hungry either, which makes me eat even less. Probably the cause of my general road-weariness. But also loading in/out and generally sweating my ass off around 3 separate times each day. Hence not writing much or taking very many pictures. Just kinda don't care.
Again little time for soundcheck and early-entry for VIPs, which meant scrambling to set levels and people watching. But again, King's X walked onstage and knocked everyone on their ass. Great crowd. Had to wait til end of PT's set to load out, which was in the rain of course. End of the night was out smoking in with Jrab and Richard from PT (keys). Nice guy. They are really blowing up, word is they'll be back stateside next Spring for a college arena tour.
King's X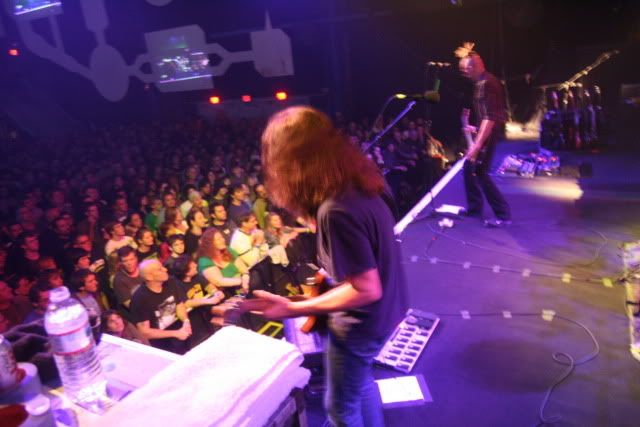 Porcupine Tree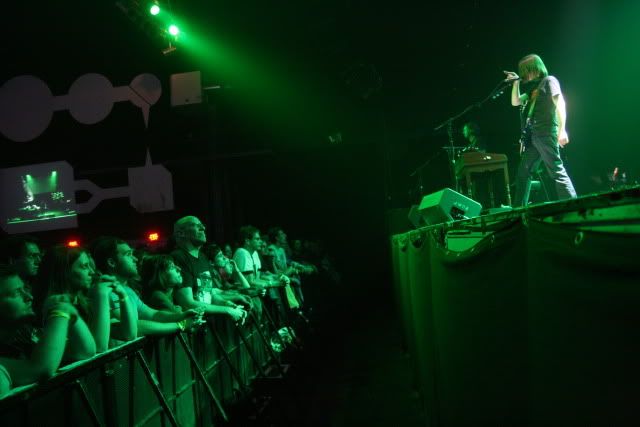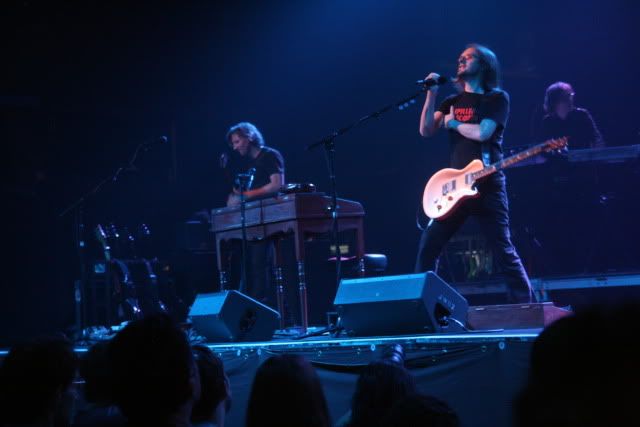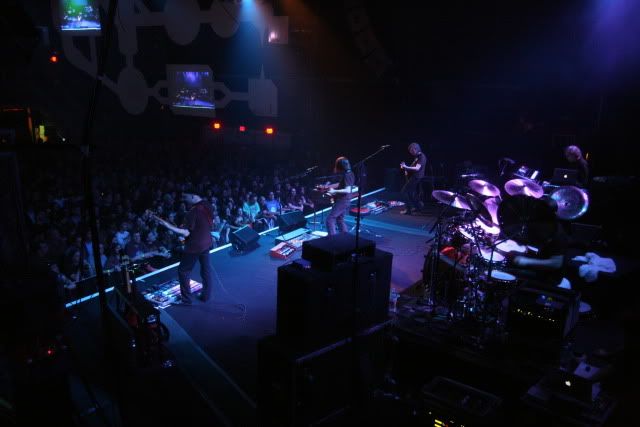 Then end of the night was loading merch out down the wet metal ramp and of course slipped forward while backing a dolly of boxes. My hand was still holding the dolly which slammed onto the ramp and then gravity took over and dragged my fingers down the rough metal. Ouch. Left a trail of blood drops backstage going to the bathrooms to wash it. It was bad but I'll live. Should have been wearing gloves...
OUCH.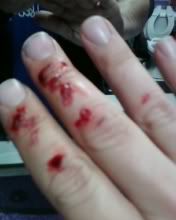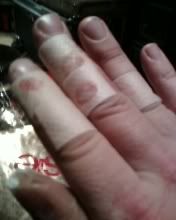 Went out to a bar around corner with Jrab and Ryan, some really good prog rock band playing. Guitarist used this weird double neck guitar and did some cool midi stuff, played a xylophone solo with it. Awesome. Back at the bus this European promoter friend of Ryan came by with her friend and some beer. Wound up drinking inside the trailer since it was the only place out of the rain. Living the dream.