Friday September 25, 2009
Woke in the morning with the bus parked nose-to-nose with the PT bus. Ram's Head up the block from the police station, non descript building but man was it cool inside! High ceiling and great lighting, 2 balconies around the floor with addition theater seating in the center. I should mention that Porcupine Tree is selling out 2500-seat theaters. GORGEOUS day, sunny and cool with a breeze.
Went for a walk with Ryan (sight-seeing/food) but got called back to load before we could do either. I was getting kinda weak at that point (not eating enough, or at least enough meals), but still felt like I could do the whole day without eating but I'd for sure feel it next day. Had some helpers to load in, set everything aside inside and then waited.
Downtown Baltimore. Must not have been having fun, these are 2 of the 3 pics I took that day: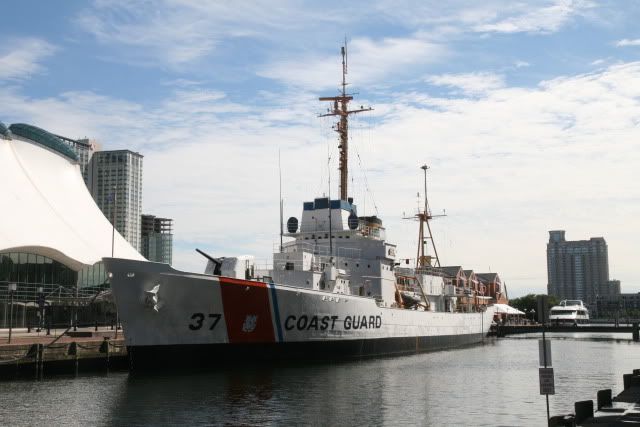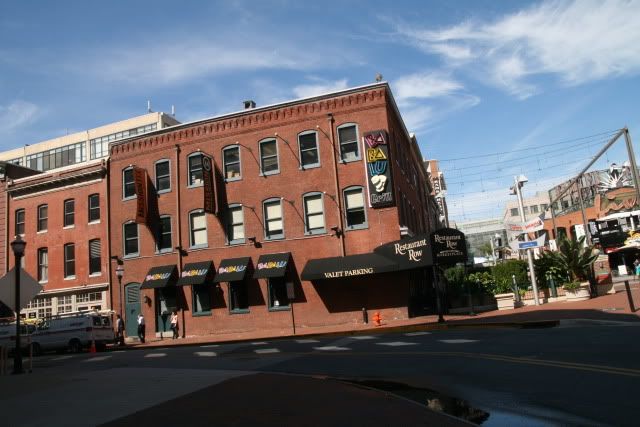 Did get to hit the Panera Bread 2 blocks away, (turkey panini with an apple and green tea) really hit the spot. Again Ryan and I got called back before we could walk down to the USS Constitution, haven't been taking very many pics this trip and that is why, heh. Tried to catch up on sleep in my bunk but mainly just laid there.
Really nice dressing room w/shower. Changed Ty's strings just to have something to do (on these 40-45 minute sets I only need to change them every other show). Food from the venue as well, had a teriyaki-wasabi tuna sandwich that was great but I couldn't finish it. Staff very nice.
Finally loaded on stage with barely enough time to soundcheck, PT crew and band nice but not getting enough time for a proper soundcheck doesn't make our jobs any easier. That tech Tonto is a trip, real character. I'd probably be a character too if I had that many guitars to deal with every night (about 15). Again King's X won over the crowd, heads bobbing by second song (What Is This), fists pumping by third (Lost in Germany). Everyone clapping along and singing along to the breakdown in "Over My Head", Dug leading them like an old school preacher. Damn forgot my camera in the dressing room.
Got offstage and stowed the gear, into the dressing room for a beer. Forgot my damn camera tho so no pics (and no way to get it without walking across the stage). Well shit. Been trying to catch part of Porcupine Tree's set but usually it is so packed (2500 sold out) I don't want to deal with that, so no pics of them either... Took a much-needed shower.
Loaded out end of the night (loaders again) stayed up on the bus with Ryan, Ty and his GF watching these mind-blowingly weird videos 'Mormon Baits'. No way to describe it, tried to tell Wilson but we just had to show him as well. I'll post a link.