Woke up past 1pm, holy crap. Didn't stay up THAT late.
Woke for a bit around 8:30am (hot, hall AC still not fixed) but went back to sleep and dreamed a bunch of stuff I can't remember now. Something about meeting up with Tommy Southard (Solace) somewhere and he brought his girl Jen with him whom I've not yet met and didn't get to talk to. She's covered in awesome tattoos in real life and the dream. Another dream about my wife which is none of your business, heh. Another about walking along Red River in Austin, looking in Headhunter's to see if any friends were there but didn't recognize anyone. Bunch of other things I can't remember. Must have needed the REM sleep. Also remember waking up bonking my head on the ceiling of my bunk. Don't think that's happened this trip yet.
Day off next to the Sleep Inn somewhere are Atlanta. Too hot to take a walk, watching TV with Wilson and Jan.
Last night was awesome. Like I said Amos' South End a great venue run by great people. Also a good, hungry crowd. First band pro and really good. Female singer who vocally reminds me a lot of Deanna (Velvet Brick), but totally diff energy. A little melodramatic for my tastes but pulled it off. Right arm sleeved out in cool tattoos. Last Perfect Thing had a replacement bass and guitar, other guys had to work. Good set tho, new guys very nice and friendly. All those guys are cool.
King's X went on to an awesome crowd, just about packed the place out. Very vocal and enthusiastic. Show smooth and great, save for a monitor problem that J Rab quickly fixed. Good sized stage for them, J Rab said. More of a square than a rectangle, plenty of room behind amps as well.
Afterwards went with J Rab and LPT guys to the Gin Mill, bar next door. Karoake, some nice looking girls, and us rowdy lot. J Rab tore it up on "Every Rose Has a Thorn", great Brett Michaels on that guy. Wilson and Tazz soon joined us at the bar. One of the LPT guys took a shot at the nice looking girls, turns out they are the anchors from a TV station. Needless to say he didn't get lucky, heh.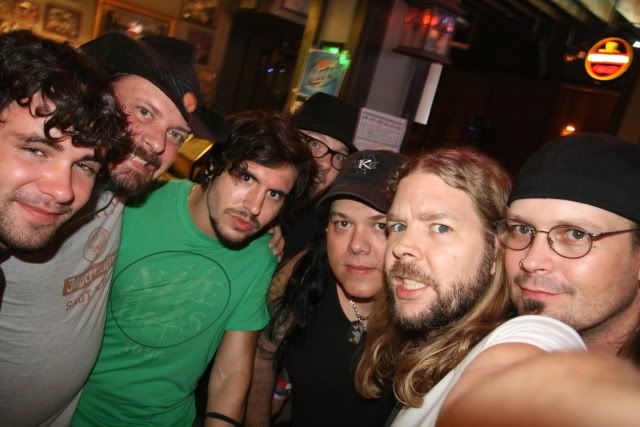 Chilled on the bus after closing time, watched some UTF reality show but I was falling asleep. Definitely did not stay up all night.
Zach, Jerry and Wilson spread the love