So last night went out with the Last Perfect Thing guys to Twain's Brew Pub for beer/dinner. Cool place, good food and beer. New guys (Rob and Dasher) are nice dudes. Feeling a little out-of-sorts, wish I'd been in more of a party mood. Went back to the bus with them then went with Greg (LPT) and Tazz to a place called Masquerade. VERY cool place, like an old castle insde. All rough stone and wooden plank doors/stairs. Two bars downstairs ("Purgatory" and "Hell") and a large venue upstairs. Tazz said that tonight one side had 80's music, the other had ghetto transvestites. We were a little dissapointed, no trannies. Heh!
The Masquerade, Atlanta GA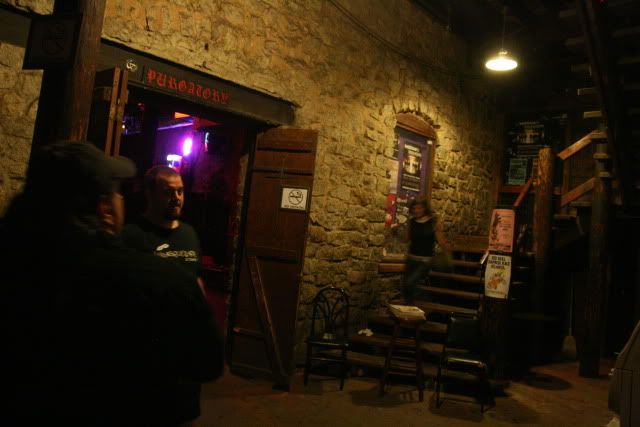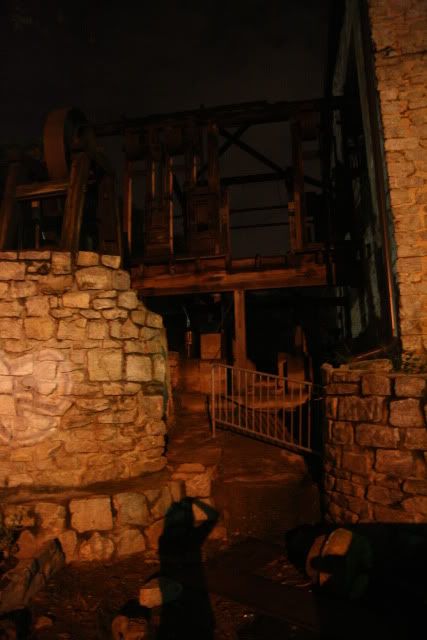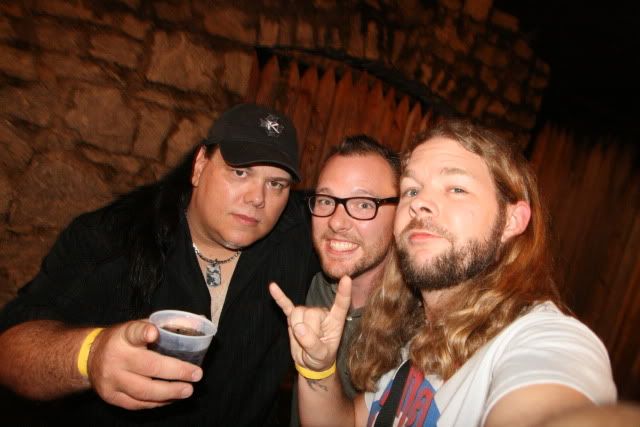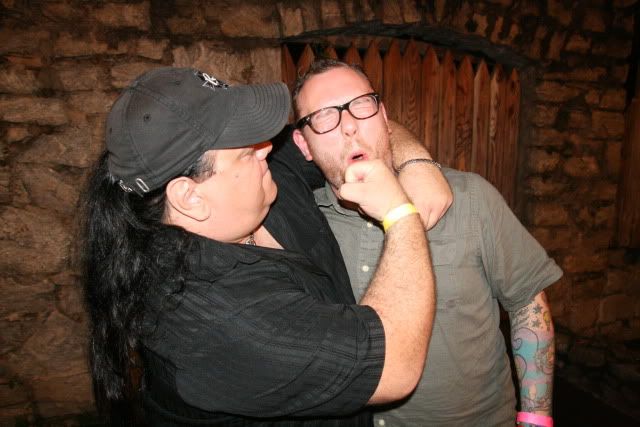 Tazz knew the staff and had us drinking for free, many Blacktooth Grins in honor of Dime's birthday (his self-invented drink of choice, Crown with a spritz of Coke on top). Met Racey from Dope/Wednesday 13. Greg was talking to Adrian Ballew's daughter. Kind of a slow night with the rain but still a good time. Introduced Greg to Waffle House on the way back. The waitress that night did not disapoint, heh!
Woke up and stayed in a weird mood all day, think I am just ready to go home. The Local is kind of a cool place, big sports bar with a goddam beer truck in the middle, bar constructed around it. Panel part used as a storage cooler. Cool side room for the venue, pictures of bands I couldn't identify along the walls. Was cloudy all day and threatening rain for load in. Had helpers to negotiate the stairs. After soundcheck Ty sat in the back lounge of the bus giving a live radio interview to a station in Boston I believe. Came out of the back with a big smile, saying they still do "King's X Day" at the Berkley School of Music. "They've been doing that for 20 years! If we actually KNEW what we were doing, they wouldn't be studying our music, heh!" Nice!
Was J Rab's birthday so he was already hitting the bar with some bros. At the bar saw a guy wearing a Mother Truckers shirt...! Talked to him and he instantly recognized me, introducing me to his friends wife "Yeah, he signed this shirt RIGHT HERE!!!" pointing to his chest. Awesome! Small effing world.
Fixed the intonation on Greg's (LPT) Tele. A saddle screw fell out before the VA Beach show, he had me tale a look and found it and the screw still inside his case. I produced a Phillip's head and fixed it lickety split (he thought it was gone for good!). He thanked me profusely and apologized the same for bugging me during dinner, heh. No biggie, Greg's a cool guy. Anytime! Got the intonation corrected no problemo. He again thanked me profusely and apologized the same (brought the case over just as I was handed my dinner, heh!).
Dinner was from the bar, not too good. Weird chicken sandwich with a stale baked potato w/nothing on it, shriveled green beans and a wrinkled piece of garlic bread. Big turnaround from Twain's Brew Pub last night. Already a good crowd for first band, Last Perfect Thing got a great reception as well.
King's X went on to a sold out crowd, one of the best of the last 2 tours! Older brunette lady up front doing the Xena warrior princess trill, the WHOLE SET. Holy cow. Laughed about it with Ty between songs: "She's been coming to see us for 20 years and does that EVERY TIME!" Crazy.
The Local, Marietta GA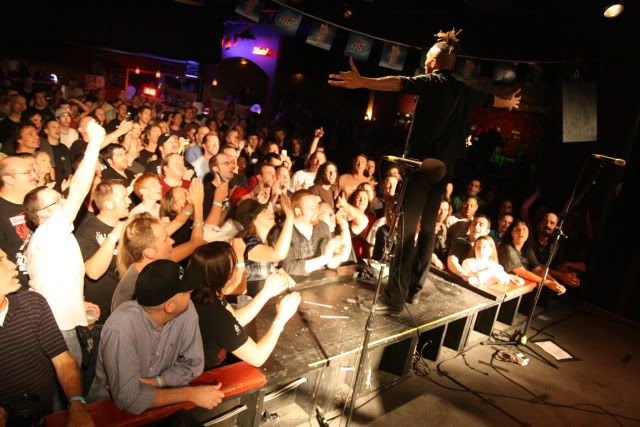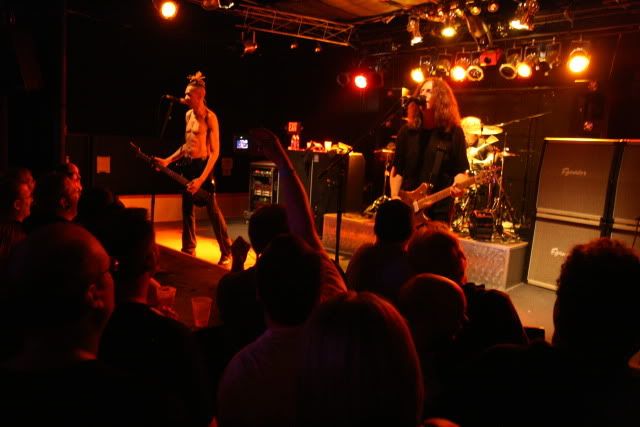 Had to load out in the rain. Nice. Hung with LPT and J Rab at the bar, J Rab had a good birthday drunk going and one of the LPT things guys was pretty far gone. All in all a pretty good night despite some PA problems, tho I felt pretty out of sorts. Shit on my mind.
Had cake on the bus for the birthday tech, good little party. Stayed up late watching Deadwood with Wilson as we drove thru the night to North Carolina.
Happy Birthday JRab!